Carne Asada Tacos with Mango Salsa
PREP TIME10 minutes

COOK TIME8 minutes

TOTAL TIME

SERVINGS3
Nutritional analysis per serving (2 tacos): Calories 646; Protein 38 g; Carbohydrates 54 g; Fat 32 g; 44% Calories from Fat; Cholesterol 98 mg; Sodium 1199 mg; Potassium 797 mg; Fiber 4 g
Carne Asada Tacos with Mango Salsa
Ingredients
Carne Asada
1 chipotle pepper in adobo sauce
1/2 cup orange juice
1 tbsp lime juice
2 tbsp grapeseed or canola oil
1 tbsp soy sauce
2 tbsp cilantro leaves
1 tbsp honey
1/2 tsp chili powder
1 pound flank or skirt steak, fat trimmed
1 tsp kosher salt
Mango Salsa
1 large mango (about 1 cup), diced
1/4 cup red onion, minced
1 jalapeno pepper, seeds removed and minced
2 tbsp lime juice
1 tbsp cilantro, chopped
1/4 tsp chili powder
PREP TIME 10 minutes

COOK TIME8 minutes

TOTAL TIME

SERVINGS3
Nutritional analysis per serving (2 tacos): Calories 646; Protein 38 g; Carbohydrates 54 g; Fat 32 g; 44% Calories from Fat; Cholesterol 98 mg; Sodium 1199 mg; Potassium 797 mg; Fiber 4 g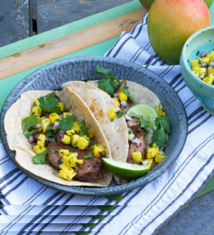 Instructions
Carne Asada
In a blender, combine chipotle pepper, orange juice, lime juice, oil, soy sauce, cilantro, honey and chili powder to make marinade.

Place steak in a rimmed baking dish and pour marinade over. Cover and refrigerate for at least 3 hours or overnight. 

Preheat a charcoal or gas grill to medium-high. Remove the steak from the marinade, season with salt and grill for 4 minutes a side.

Transfer to a cutting board and rest for 5 to 10 minutes.
Mango Salsa
Combine all ingredients in a bowl and stir. Refrigerate until ready to serve.
Assembly
Place tortillas on a baking sheet and toast both sides under broiler until lightly golden. Slice steak into thin strips. Serve on tortillas with mango salsa.