Tropical Mango Roll with Thai Peanut Noodles and Vietnamese Dipping Sauce
PREP TIME

COOK TIME

TOTAL TIME

SERVINGS12
Tropical Mango Roll with Thai Peanut Noodles and Vietnamese Dipping Sauce
Ingredients
Tropical Roll:
12 pieces rice paper, 10-inch
1-1/2 pounds fresh, ripe, peeled mango sticks, 1/4 x 3-inch
1/2 ounces snow peas, blanched and slivered
6 ounces red bell pepper, thin julienne
1-1/2 ounces scallion, 3-inch strips
4 tablespoons fresh cilantro leaves
12 3-ounce portions Thai Peanut Soba Noodles, recipe follows
24 ounces Vietnamese Dipping Sauce (Nuoc Cham)
Vietnamese Dipping Sauce:
1/2 teaspoon fresh chopped garlic
1/4 teaspoon fresh chopped ginger
2 tablespoons soy sauce
1 tablespoon oyster sauce
2 tablespoons + 2 teaspoons ketchup
2 tablespoons water
2 tablespoons granulated sugar
2 tablespoons red wine vinegar
1/8 teaspoon crushed red pepper flakes
1-1/2 teaspoons sherry wine
6 tablespoons peanut butter
1 tablespoon + 1-1/2 teaspoons sesame oil
Thai Peanut Soba Noodles:
9 ounces Soba Noodles, dry weight
3-1/2 ounces shredded green cabbage
3-1/2 ounces matchstick carrots
3-1/2 ounces julienne red bell pepper
4-1/2 ounces cucumber, peeled, seeded and halved
2 teaspoons fresh chopped cilantro
2 teaspoons fresh chopped mint
1 teaspoon fresh lime juice
PREP TIME

COOK TIME

TOTAL TIME

SERVINGS12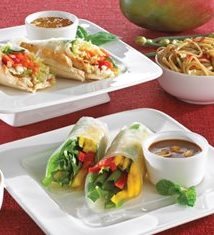 Instructions
To prepare Mango Rolls: Per Order:
Soak rice paper in warm water until soft, 5 to 10 seconds. CAUTION: Do no soak too long or rice paper will tear when you try to roll.

Layer along middle of each rice paper: 2-ounces mango strips, 1/8-ounce small green lettuce leaf torn into pieces, 1/2-ounce slivered snow peas, 1/2-ounce julienne red bell pepper, 1/8-ounce scallion strips, and 6 cilantro leaves.

Gently roll "burrito style" keeping seam side down.

Split roll in half with a clean wet knife and serve with 3-ounces Thai Peanut Soba Noodles and 2-ounces Vietnamese Dipping Sauce.

Serve finished plate immediately.

Hold prepped rolls refrigerated at 40℉F or below for same day service. NOTE: If making rolls ahead of time, keep moist by placing a damp paper towel over them.
To prepare Vietnamese Dipping Sauce:
Quickly stir fry garlic and ginger until they start to brown.

Add soy sauce, oyster sauce, ketchup, water, sugar, vinegar, red pepper flakes, sherry wine, and peanut butter.

Bring to a boil, and then reduce heat to simmer for 5 minutes (minimum internal temperature of 165℉F for 15 seconds).

Stir in sesame oil and cool quickly to 40℉F or below.
To prepare Thai Peanut Soba Noodles: To cook noodles:
Bring water to a rolling boil.

Scatter noodles into boiling water and cook until tender, 3 to 4 minutes.

Drain immediately and cool quickly with cold water.
Just before service:
Combine cooked noodles, cabbage, carrot, pepper, cucumber, Vietnamese Dipping Sauce, cilantro, mint, and lime juice.

Toss well to coat.

Hold refrigerated at 40℉F or below.

Shelf Life: Use within 48 hours. Chef Chuck Hatfield, Sodexo Corporate Services