Grilled Mango Kimchi Hot Dogs
PREP TIME20 minutes

COOK TIME15 minutes

TOTAL TIME

SERVINGS6
Grilled Mango Kimchi Hot Dogs
Ingredients
6 Hot Dogs
2 Mangos, chopped
1/3 cup Kimchi, finely diced
1/4 cup Cilantro
6 Buns
1/4 cup Hoisin Sauce, divided
Sesame Seeds, for garnish
PREP TIME 20 minutes

COOK TIME15 minutes

TOTAL TIME

SERVINGS6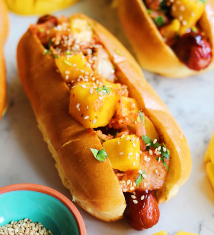 Instructions
Grill hot dogs over high heat until slightly charred on the outside and hot in the middle.

Meanwhile, mix together chopped mango, kimchi and cilantro and set aside.

Once the hot dogs are done, remove them from the heat and lightly toast the buns on the grill.

Add the hot dogs to the buns and add a drizzle of hoisin to each one then top with the mango kimchi slaw.

Add a sprinkle of toasted sesame seeds on top of each one and enjoy!