Five Mango Quesadilla
PREP TIME25 minutes

COOK TIME

TOTAL TIME

SERVINGS4
Nutritional analysis per main dish serving: Calories 570; Protein 41g; Carbs 57g; Fat 20g; 31% calories from fat; Cholesterol 95mg; sodium 1149mg; potassium 812mg; Fiber 5 g Nutritional analysis per snack serving: Calories 285; Protein 21g; Carbs 28g; Fat 10g; 31% calories from fat; Cholesterol 48mg; sodium 575mg; potassium 406mg; 3g fiber
Ingredients
2 small boneless skinless chicken breasts
1 can (8 ounces) tomato sauce
1 dried ancho/pasilla chili, stemmed and seeded
4 burrito size flour tortillas
6 ounces thinly sliced ​​Jack cheese
1 ripe mango, peeled, pitted and thinly sliced
1/4 cup chopped red bell pepper
1/4 cup sliced ​​green onions
FOR THE MANGO SAUCE
large mango, peeled, pitted and chopped
1/3 cup chopped red bell pepper
1/4 cup chopped red onion
1/2 tablespoon chopped fresh coriander
1/2 tablespoon lime juice
pinch or pinch of salt
PREP TIME 25 minutes

COOK TIME

TOTAL TIME

SERVINGS4
Nutritional analysis per main dish serving: Calories 570; Protein 41g; Carbs 57g; Fat 20g; 31% calories from fat; Cholesterol 95mg; sodium 1149mg; potassium 812mg; Fiber 5 g Nutritional analysis per snack serving: Calories 285; Protein 21g; Carbs 28g; Fat 10g; 31% calories from fat; Cholesterol 48mg; sodium 575mg; potassium 406mg; 3g fiber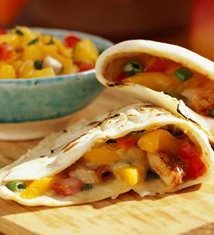 Instructions
Cook chicken on a lightly oiled grill over medium heat for about 5 minutes on each side or until lightly charred and cooked through.

Let cool slightly and cut into bite-size strips. Puree the tomato sauce and dried pepper in a blender or food processor.

Transfer to a small saucepan and cook over medium heat for 15 minutes.

Add rotisserie chicken to skillet and toss well to coat; season to taste with salt.

Place the flour tortillas on a flat surface. Top half of each tortilla with equal amounts of cheese, mango, bell pepper, green onion and chicken; fold the tortilla

Cook in a large skillet on both sides until cheese is melted and tortilla is crisp, about 5 minutes per side.

Serve with mango sauce.
Mango Salsa:
In a small bowl, mix mango, red bell pepper, red onion, cilantro, lime juice, and salt.