Pulled Pork Sandwich with Mango Barbecue Sauce
PREP TIME45 minutes

COOK TIME

TOTAL TIME

SERVINGS8
Pulled Pork Sandwich with Mango Barbecue Sauce
Ingredients
MANGO BARBECUE SAUCE
1 mango, peeled, pitted and mashed
3/2 cups bottled barbecue sauce
1/4 cup lime juice
2 tablespoons brown sugar
Hot sauce (optional)
PULLED PORK
2 teaspoons ground cumin
2 teaspoons garlic powder
2 teaspoons dried oregano
3 pounds boneless pork loin, cut into 2-inch chunks
2 tablespoons vegetable oil, divided
1 large yellow onion, chopped
mango, peeled, pitted and mashed
ADDITIONAL INGREDIENTS
Soft rolls
Mango Slaw (optional)
PREP TIME 45 minutes

COOK TIME

TOTAL TIME

SERVINGS8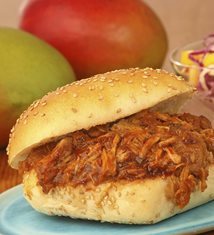 Instructions
Prepare the sauce by stirring together all sauce ingredients in a small saucepan and bring to a boil; reduce heat and simmer, covered, for 30 minutes.

For the pork, stir together spices in a medium bowl; add pork and toss until coated.

Heat 1 tablespoon oil in a Dutch oven or stock pot.

Add pork and cook until browned on all sides (in batches if pot is narrow).

Remove from pot.

Heat remaining oil and add onion; cook and stir over medium-high heat for 5 minutes to brown.

Add pork back to pot with mango and 1 1/2 cups mango barbecue sauce (reserve extra sauce for serving); cover and cook over low heat for 2 1/2 hours or until meat shreds easily with a fork.

Serve shredded pork on rolls with a drizzle of barbecue sauce. Great with a spoonful of Sweet Mango Slaw on top or served on the side.