Fresh Mango Gazpacho
PREP TIME20 minutes

COOK TIME

TOTAL TIME

SERVINGS0
Recipe courtesy of Chef Mark G Harmer, Tapa Toro, Orlando, FL
Ingredients
5 oz. cibatta bread, dried, large dice
1-1/2 lbs (25 oz) tomatoes, peeled, large dice
1 large (12 oz.) cucumber, peeled, deseeded, large dice
1 garlic clove, peeled and minced
2 tsp. kosher salt
½ tsp. ground paprika
I cup micro greens, for garnish
1-1/2 lbs (24 oz) fully ripe mangos, peeled, large dice
1-1/2 lbs (25 oz) tomatoes, peeled, large dice½ lb (8 oz) red bell pepper, large dice
1 small (1-1/2 oz.) shallot, peeled and minced
1-1/2 cups olive oil, divided
¼ cup sherry vinegar
Paprika infused olive oil, for garnish
1 cup diced ripe mango, for garnish
PREP TIME 20 minutes

COOK TIME

TOTAL TIME

SERVINGS0
Recipe courtesy of Chef Mark G Harmer, Tapa Toro, Orlando, FL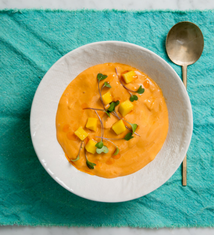 Instructions
Soak ciabatta in cold water for a few minutes until slightly rehydrated. Squeeze out excess water. 

Place the ciabatta, mango, tomato, red bell pepper, cucumber, shallot and garlic in a blender. Puree. 

Slowly pour 1 cup oil into blender, until mixture is smooth and creamy.  Season with salt and sherry vinegar. 

Chill gazpacho in the refrigerator before serving.

In a small bowl, whisk paprika with ½ cup remaining olive oil. Reserve.

Ladle gazpacho into bowl and garnish each serving with paprika infused olive oil, fresh micro greens and diced mango.