Compressed Mango & Pork Belly
PREP TIME

COOK TIME

TOTAL TIME

SERVINGS4
Recipe by Chef Mikel Anthony with Chef's Roll
Compressed Mango & Pork Belly
Ingredients
Pork Belly Sous Vide
1/4 cup honey
1 orange
1 lb pork belly
1-2 sprigs fresh herbs
Mango Sous Vide
1 large ripe mango
1/4 cup citrus sauce
Roasted Mango Glaze
1 whole ripe mango + mango trimmings
1 oz fresh ginger
20 small, peeled garlic cloves
2-3 Thai chilis
PREP TIME

COOK TIME

TOTAL TIME

SERVINGS4
Recipe by Chef Mikel Anthony with Chef's Roll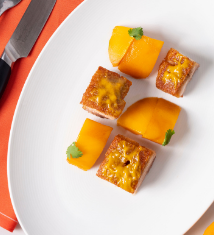 Instructions
Pork Belly Sous Vide
Score the pork belly skin in uniform lines

Combine all ingredients in a vacuum seal bag.

Cook sous vide at 183 degrees F for 18 hours.

Deep fry at 350 degrees F just until crispy.

Remove, drain and cut into 8 pieces.
Mango Sous Vide
Cut mango into cubes about the same size as the pork belly.

Reserve trimmings for glaze.

Place mango cubes and citrus sauce in a vacuum seal bag, compress and allow to rest for an hour or two.
Roasted Mango Glaze
Peel and cut whole mango into large pieces.

Place all ingredients, including mango seed, in a cast iron skillet and roast in a wood-fired oven or bake at 350 degrees F until ingredients being to caramelize.

Remove mango seed and cool slightly. Blend all ingredients until smooth, then cook down into a glaze texture.
To Assemble
Arrange 3 pieces each of mango and pork belly on a plate, top the pork belly pieces with the Roasted MangoGlaze and scatter a few herbs on top if desired.