Green Mango Spirals with Mango Aguachile
PREP TIME

COOK TIME

TOTAL TIME

SERVINGS0
Recipe by Chef Mikel Anthony, Chef's Roll, for National Mango Board
Green Mango Spirals with Mango Aguachile
Ingredients
Cured Shrimp
1 cup Freshly Squeezed Lime Juice
½ lb Small Shrimp, 16 pieces
Cured Baby Red Onions
1 cup Freshly Squeezed Lime Juice
8 Baby Red Onions, peeled and halved
Mango Aguachile
1 Lemon
1 Lime
1 Small Jalapeño (removing seeds is optional)
1 Orange
2  Ripe Mangos, peeled and cut into chunks
Green Mango Spirals/Noodles
2 Small Green Mangos, stage 2 to 3 ripeness
Per Serving
4  Thin Slices of Cucumber
Salsa Macha or salsa of your choice
Cilantro Leaves
Corn Chip Rounds
PREP TIME

COOK TIME

TOTAL TIME

SERVINGS0
Recipe by Chef Mikel Anthony, Chef's Roll, for National Mango Board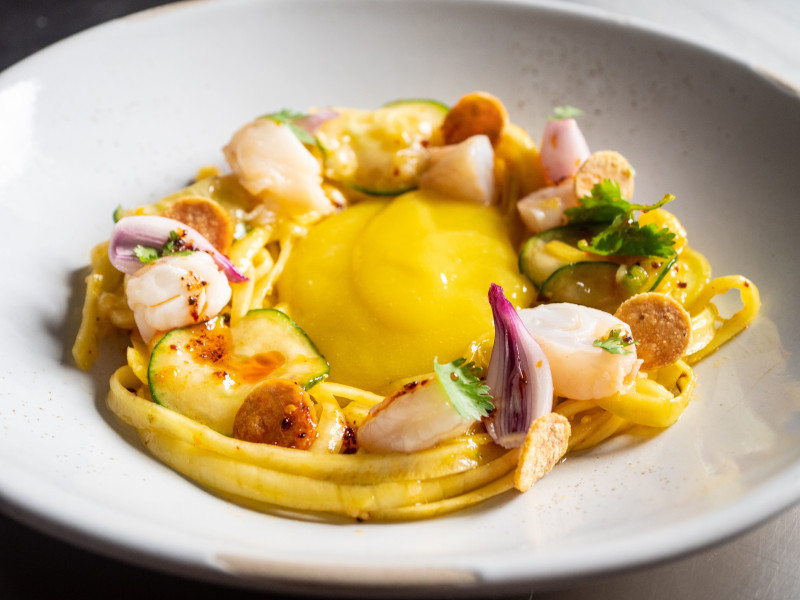 Instructions
Cured Shrimp
Submerge shrimp in lime juice. Add more if needed to cover. Refrigerator until no longer opaque, 45 minutes to 1 hour.
Cured Baby Red Onions
Submerge onions in lime juice. Add more if needed. Refrigerate until no longer opaque, 45 minutes to 1 hour.
Mango Aguachile
Juice the citrus and blend with mangos and jalapeño until smooth.
Green Mango Spirals/Noodles
"Green" refers to mangos at the early stages of ripening (stage 2-3) when the whole fruit is firm to the touch, the flesh is crisp and the taste tart/sour.

Use an apple slicer or attachment for KitchenAid. Because mangos have seeds, set up to peel up and down the length of the mango. When using a table top apple slicer, remove the slicing insert and it will continually "peel" the outside if you continue to start and stop.

Alternatively, use a mandolin to cut peeled green mango cheeks into a thin julienne cut.

Spiralize mangos up to 3 hours in advance of service to maintain quality of the noodle.
Per Serving
Combine about 1/3 cup of mango noodles with 1 Tbsp of Mango Aguachile and create a ring on the bottom of a shallow bowl. Top with thinly sliced cucumber, cilantro, 4 pieces of cured onion and 4 pieces of cured shrimp. Fill the circle with about 2 Tbsp of Mango Aguachile. Drizzle the plate with about 1 teaspoon Salsa Macha and garnish with a few corn chips.

*Salsa Macha is a salsa from Veracruz made with a variety of dried peppers, nuts and oil.