Mango Habanero Wings
PREP TIME25 minutes

COOK TIME30 minutes

TOTAL TIME

SERVINGS2
Recipe submitted by Olivia Crouppen, LivHungry.
Ingredients
1 Small Mango, peeled and chopped into large chunks
1/2 cup BBQ Sauce
2 tbsp Habanero Chili Powder, Chili Powder, or Fresh Habanero
1/2 tbsp Garlic Powder
4 tbsp Apple Cider Vinegar
6-8 Bone in skin on chicken wings.
Sliced Green Onion & Fresh Cilantro, for garnish
PREP TIME 25 minutes

COOK TIME30 minutes

TOTAL TIME

SERVINGS2
Recipe submitted by Olivia Crouppen, LivHungry.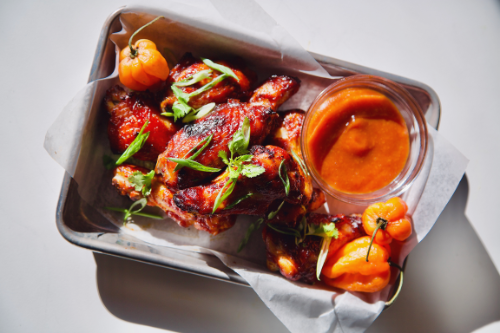 Instructions
Blending ingredients 1-5 in a blender or food processor until a smooth sauce comes together.

Transfer the chicken wings to a large bowl then generously cover with the mango habanero sauce and toss to coat.

Cover the chicken wings with cling wrap and allow to marinate for a minimum of two hours, or-overnight, in the fridge.

Once the wings have marinated, remove them from the fridge and preheat oven to 400°.

Transfer the marinated wings to a large baking sheet lined with foil and a little bit of cooking oil, to prevent the wings from sticking.

Brush the wings with the additional marinade and bake for 25-30 minutes or until caramelized and brown.

Transfer the finished wings to a large tray or platter and garnish with green onion and cilantro if desired.

Leftover wings can be covered stored in an airtight container in the fridge for up to 4days.