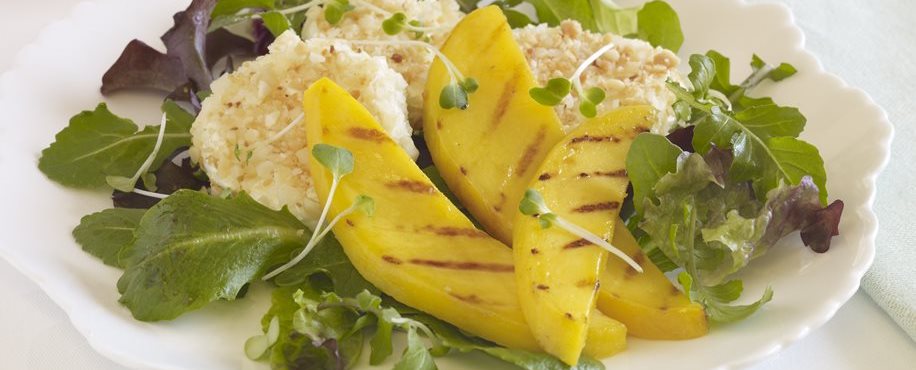 INGREDIENTS
6 fresh ripe mangos*, peeled
2 1/4 lb goat cheese, sliced into 1 oz rounds
1 1/2 cups macadamia nuts, toasted and chopped
3 lbs organic greens
12 oz arugula
24 oz balsamic vinaigrette
Micro greens, for garnish
Per order: Cut 1 mango cheek away from seed and then cut cheek into 3 wedges. Grill wedges over medium-high heat until marked.
Coat 3 goat cheese rounds with Macadamia nuts. Bake at 350 degrees 2 to 3 minutes.
To plate: Toss 4 oz greens and 1 oz arugula with vinaigrette and line serving plate. Arrange goat cheese and grilled mango on top. Garnish with micro greens.
*A 9 count mango weighs about 18 ounces and yields approximately 11 ounces useable fruit. 1 cup 3/8" diced mango weights 6.35 ounces.
Source: Chef Hector Morales, 21 Degrees North, Turtle Bay Resort, Honolulu