Grilled West African Street Kebabs
PREP TIME30 minutes

COOK TIME

TOTAL TIME

SERVINGS4
Recipe courtesy of Chef Jason Hernandez of Blade & Tine Culinary Consulting
Grilled West African Street Kebabs
Ingredients
For the Kababs
3 oz Durban Masala Paste
2 tbsp Worcestershire Sauce
1 tsp Salt
1 tsp Black pepper
8 oz Beef cubes 1"
8 oz Chicken cubes 1"
8 oz Green Mango cubes 1"
8 oz Baby potatoes par cooked
4 oz Pepper medley 1" pieces
20 oz Mango slaw
12 fl oz Mango Piri Piri Cream Sauce
For the Mango Slaw
10 oz Green mango shredded
8 oz Cabbage slaw mix
2 oz Red peppers Julienne
1.5 tsp Salt
2 fl oz Mango Vinegar
For the Mango Piri Piri Cream Sauce
2 fl oz Heavy Cream
5 fl oz Piri Piri Sauce
5 fl oz Mango Puree
PREP TIME 30 minutes

COOK TIME

TOTAL TIME

SERVINGS4
Recipe courtesy of Chef Jason Hernandez of Blade & Tine Culinary Consulting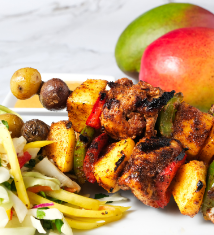 Instructions
Place the Durban paste, Worcestershire sauce, salt, and pepper into a mixing bowl and completely combine.

Once mixed split the mixture evenly into two separate bowls one for chicken and one for beef.

Place the been in one bowl and the chicken in the other and mix well to combine. Let set for a minimum of 1 hour.

While the meat is marinating, if using wooden skewers soak the skewers for 30 minutes in warm water. If using metal, no need to soak.

Using skewers place the meat, then the mango, then potato, and peppers alternating until the skewer is filled.

Once all the skewers are filled on a hot oil grill place the skewers on the grill and cook the chicken to 165 degrees and cook the meat to the desired temperature.

While the meats are cooking to make the slaw, place shredded mango, cabbage mix, red peppers, salt and toss in bowl. Add in the mango vinegar and completely mix. Set aside to plate.

While the meat is cooking to make the sauce, place heavy cream into a blender and blend on low until it starts to thicken up, add in the Piri Piri sauce and mango puree and blend for an additional 30 seconds.

Once combined place into a ramekin to serve on the side of the skewers.

Once the skewers are completely cooked, to plate place the slaw on the plate mounding as high as possible.

Place the skewers on the plate crossing the tips of the skewers. Place the mango Piri Piri on the side of the skewers and serve.