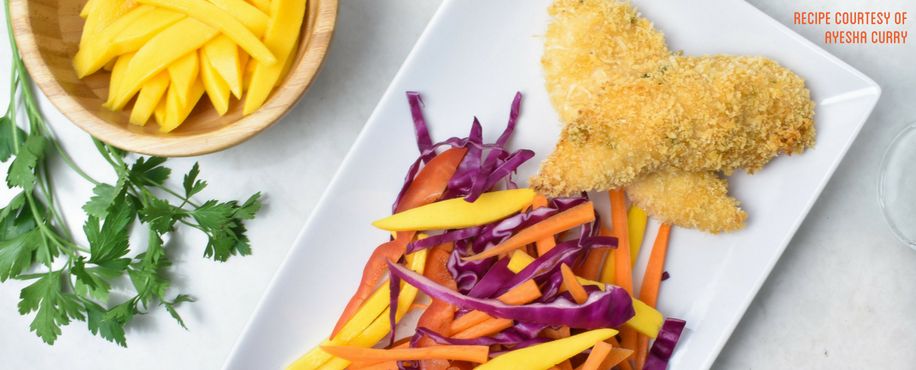 INGREDIENTS
Kick-off summer with Ayesha Curry! Watch her share a simple, bright and refreshing (and kid-friendly) recipe just in time for summer! Featuring nutritious Tommy Atkins mangos, breaded chicken tenders, and a colorful slaw –this is a recipe the whole family will love! She also shares four easy steps that will make cutting a mango a breeze.
Chicken Tenders
1 pound boneless skinless chicken tenders
1 1/2 to 2 cups panko breadcrumbs
2/3 cup parmesan cheese, grated
1/2 cup mayonnaise
1 tablespoon Dijon mustard
1/2 tablespoon parsley, finely chopped
1/4 teaspoon smoked paprika
1/4 teaspoon garlic powder
1/4 teaspoon onion powder
Salt and pepper, to taste
Slaw
1 mango, peeled and julienned
1/2 purple cabbage, shredded
1 red bell pepper, deseeded and julienned
2 large carrots, peeled and julienned
1/2 lime, juiced
2 tablespoons rice vinegar
1 tablespoon maple syrup
Salt and pepper, to taste
Preheat oven to 400 degrees F. Add panko and parmesan into a shallow dish, stir and set aside.
In a bowl, add mayonnaise, Dijon mustard, parsley, smoked paprika, garlic powder, onion powder, salt, and pepper. Take chicken tenders and coat them into the wet mixture before gently rolling into panko and parmesan mixture, making sure that the entire chicken tender is coated well. Place chicken tenders on prepared baking dish (a wire rack baking pan is best.) Cook in a preheated oven for 15 to 20 minutes or until cooked through.
In a large bowl, add shredded cabbage, bell pepper, mango, and carrots.
In a small bowl, add lime, vinegar, syrup, salt, and pepper. Whisk to combine. Drizzle the lime mixture over the slaw and toss to coat.

Recipe courtesy of Ayesha Curry on behalf of the National Mango Board