Mango-Avocado Tuna Ceviche
PREP TIME

COOK TIME

TOTAL TIME

SERVINGS0
Recipe submitted by Alison Wu, Wu Haus 
Mango-Avocado Tuna Ceviche
Ingredients
16 oz Sushi-grade fish cut into 1/2-inch cubes
1/4 cup Lime Juice
1/3 cup Thinly Sliced Red Onion, tightly packed
1/4 cup Cilantro, roughly chopped
1/3 cup Honey Mango, cubed
1 Large Avocado,cubed
1 Small-Medium Serrano Pepper, thinly sliced (optional)
2 tbsp Puffed Black Rice
Salt and Black Pepper, to taste
PREP TIME

COOK TIME

TOTAL TIME

SERVINGS0
Recipe submitted by Alison Wu, Wu Haus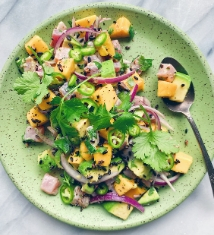 Instructions
Using a very sharp knife, cut the tuna into neat 1/2-inch cubes. Transfer the cubed tuna to a medium bowl and stir in the red onion and lime juice.

Let marinate for 10-25 minutes depending on how "cooked" you like your fish (see notes at beginning of this post).

While fish is marinating, heat a small saucepan over medium-high heat. Once the pan is hot (very hot, almost smoking, but not quite), toss in the black rice. Leave enough room, so rice is in a single layer and had enough room to move around.

Shake the pan from time to time so rice doesn't burn. Once you hear the rice pop, it's done. Usually 2ish minutes. Be careful not to burn. Set aside to cool.

Once fish is marinated, lightly toss in cilantro, mango and avocado to coat. Season to taste with salt and black pepper. Top with thinly sliced Serrano pepper and sprinkle with puffed black rice. Serve immediately.