Mango & Black Rice Salad with Chipotle Shrimp
PREP TIME

COOK TIME

TOTAL TIME

SERVINGS0
Recipe submitted by Courtnie Hamel, Wellness with Courtnie  
Mango & Black Rice Salad with Chipotle Shrimp
Ingredients
1 cup cooked black rice
1/2 pound of wild shrimp
1/2 tsp paprika
3 cups of butter lettuce
1/2 red bell pepper diced
1/2 radish cubed
3 tbsp avocado oil (divided)
1/2 tsp chipotle chili powder
Salt and pepper
1 mango diced
1/2 orange bell pepper diced
1 avocado (optional for garnish)
PREP TIME

COOK TIME

TOTAL TIME

SERVINGS0
Recipe submitted by Courtnie Hamel, Wellness with Courtnie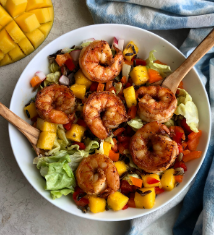 Instructions
Cook rice as directed on packaging. In a medium saucepan, heat 2 tablespoons avocado oil.

Sauté shrimp with chipotle chili powder, paprika, salt and pepper until fully cooked. 

Add butter lettuce, mango, red and orange bell peppers, radish, black rice, and cooked shrimp to a large bowl.

Toss ingredients with remaining tablespoon of oil until combined. Top with sliced avocado, if desired. Enjoy.