Mango Barbecue Chicken Sandwich with Mango Cabbage Slaw
PREP TIME

COOK TIME

TOTAL TIME

SERVINGS8
Mango Barbecue Chicken Sandwich with Mango Cabbage Slaw
Ingredients
2 lb Roasted Chicken, torn in 1/2" pieces
1/2 cup Ripe Mango, diced
4 ea Burger Bun
Mango BBQ Sauce
1 tbsp Canola Oil
1/2 cup Onions, diced
2 Garlic Clove, minced
2 tsp Garlic, minced or grated
2 cup Ripe Mango, peeled, chopped
1/2 cup Ketchup
1/4 cup Brown Sugar, dark
1/4 cup Maple Syrup or Agave
1/4 cup Cider Vinegar
2 tbsp Molasses
1 tbsp Chipotle en Adobo
Salt, to taste
Ground Black Pepper, to taste
Mango Cabbage Slaw
4 cup Cabbage, sliced thin
1 cup Carrots, grated
2 cup Medium Ripe Mango, julienne
1/4 cup Green Onions, green parts sliced
1/4 cup Red Onions, julienne, rinsed, drained
3 tbsp Extra-Virgin Olive Oil
2 tbsp Cider Vinegar
1 tsp Agave Syrup
Cayenne, pinch
PREP TIME

COOK TIME

TOTAL TIME

SERVINGS8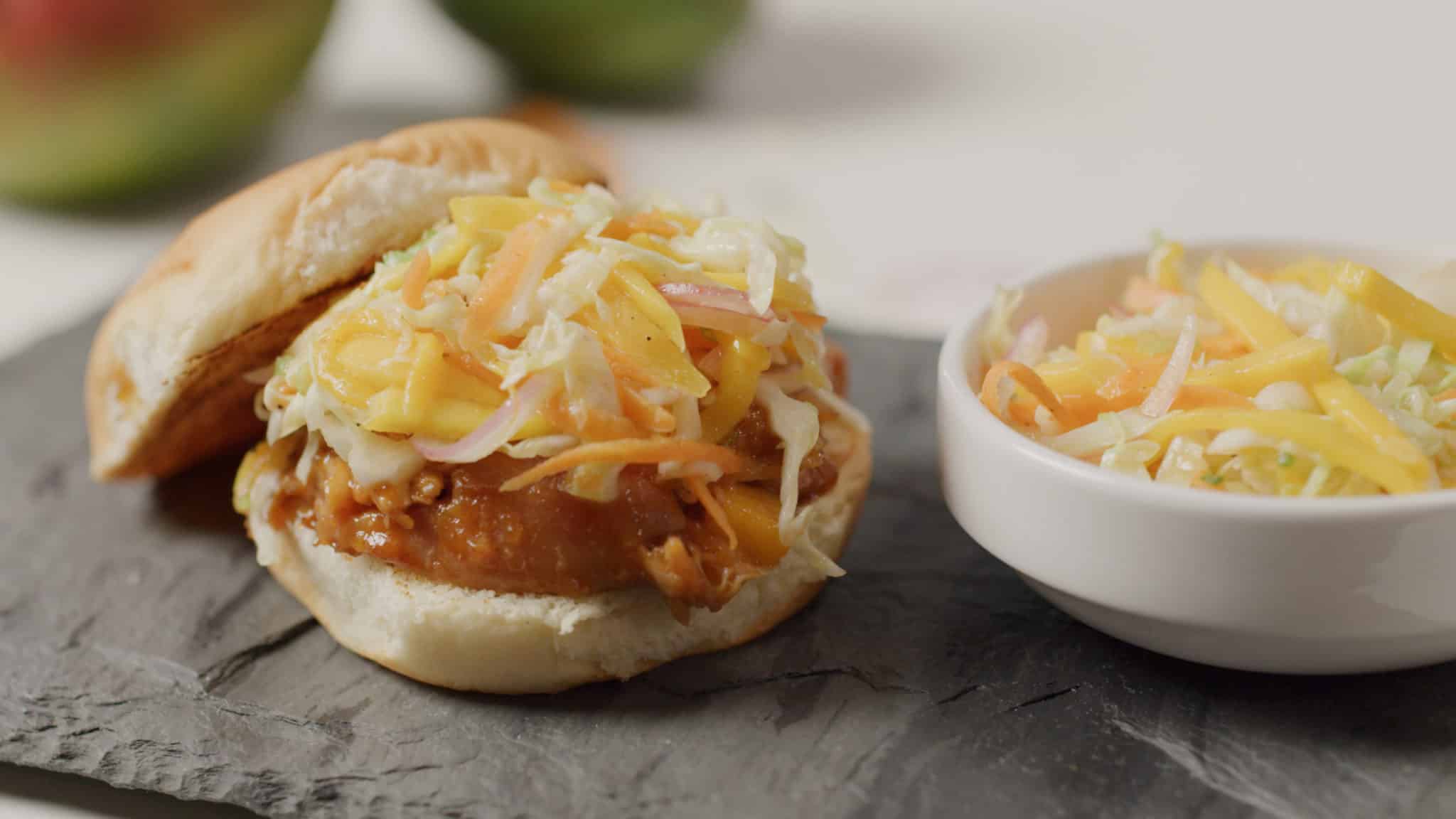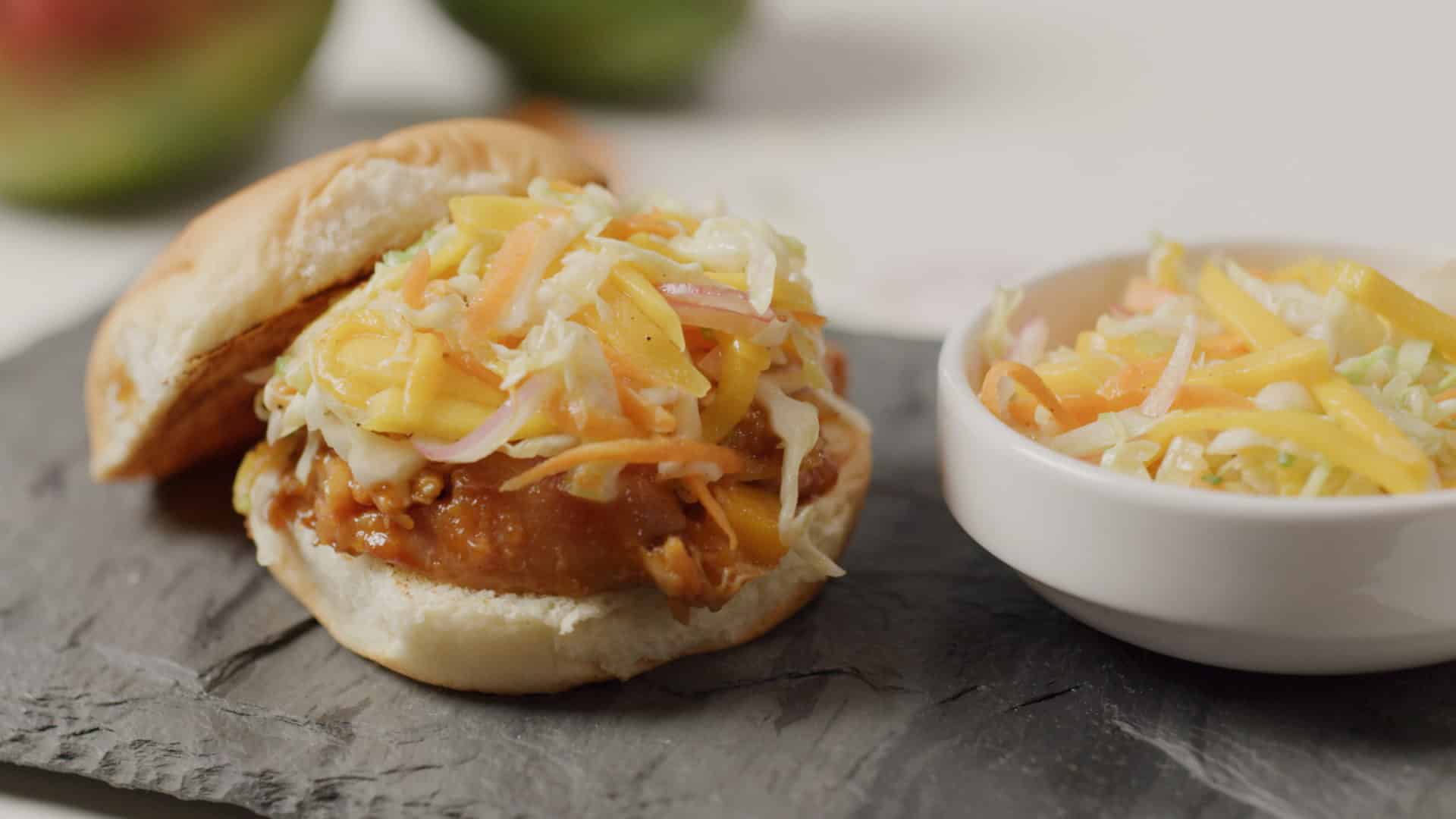 Instructions
For the Mango BBQ Sauce: Heat a saucepot over medium heat. Add the oil and onions. Cook over medium heat until the onions are slightly caramelized andsoft.

Add the garlic and ginger, cook until aromatic. Add the mango, ketchup, brownsugar, syrup, vinegar, molasses, chipotle, salt, and pepper. Bring to a simmer and cook over low heat until the mangos are soft and tender. Approximately 30 minutes.

Puree the sauce with a hand blender and adjust seasoning with salt, pepper, and vinegar.

For the Mango Cabbage Slaw: Combine the cabbage, carrots, mango, green onions, red onions, and a pinch of salt in a large bowl.

Combine the oil, cider vinegar, agave, and cayenne, season with salt, and pepper. Add to the cabbage mixture and gently mix. Adjust the seasoning with salt and pepper.

For the Chicken: Combine the chicken and a couple of spoonful of Mango BBQ sauce in a sauté pan. Warm over medium heat. Adjust seasoning with salt and pepper. Just prior to serving, gently stir in the diced mangos.

To Assemble: Toast the bun. Place a spoonful of the chicken mixture on the bottom bun. Top withthe Mango Cabbage Slaw. Place the top bun on top.