Turkey Burger and Mango Pita Melt
PREP TIME10 minutes

COOK TIME15 minutes

TOTAL TIME

SERVINGS4
Turkey Burger and Mango Pita Melt
Ingredients
1 pound ground turkey
1 tsp kosher salt
3 tbsp grated parmesan
1/2 tsp oregano
1/2 tsp garlic powder
Olive oil spray
1 ripe mango, cut in slices
4 slices cheddar cheese
1/4 cup honey mustard
4 pieces whole wheat pita
4 leaves butter lettuce
PREP TIME 10 minutes

COOK TIME15 minutes

TOTAL TIME

SERVINGS4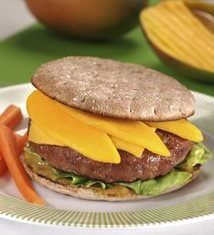 Instructions
To prepare the burger, in a medium bowl, gently mix the turkey, salt, parmesan, oregano and garlic.

Form into 4 patties, each about 1 inch thick. Spay with olive oil.

To cook the burgers, use a non stick griddle pan. Heat very hot. Spray the pan lightly with olive oil.

Griddle the burgers for 3-4 minutes on each side until cooked through.

To prepare the pita melt, preheat the oven to 350 degrees. Split the pita open and place one turkey burger in each. Top with slices of mango, cheddar cheese and then spread the top side of pita with honey mustard and close the pita sandwich. Spray lightly with olive oil.

Place in the oven for 5 minutes until the cheese is melted. Serve immediately with butter lettuce on each pita.