Mango and Cream Cheese Crescent Rolls
PREP TIME15 minutes

COOK TIME15 minutes

TOTAL TIME

SERVINGS8
Nutritional analysis per roll: Calories 201; Protein 5 g; Carbohydrates 25 g; Fat 9 g; 41% Calories from Fat; Cholesterol 47 mg; Sodium 221 mg; Potassium 138 mg; Fiber 1 g
Mango and Cream Cheese Crescent Rolls
Ingredients
6 ounces cream cheese, softened
2 tbsp honey
8 count crescent roll dough
1 ripe mango, cut into eight 1/4-inch thick slices 
1 egg, beaten
PREP TIME 15 minutes

COOK TIME15 minutes

TOTAL TIME

SERVINGS8
Nutritional analysis per roll: Calories 201; Protein 5 g; Carbohydrates 25 g; Fat 9 g; 41% Calories from Fat; Cholesterol 47 mg; Sodium 221 mg; Potassium 138 mg; Fiber 1 g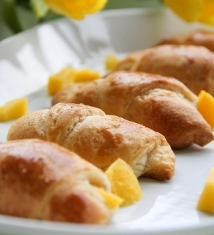 Instructions
Soft flaky dough blankets, sweet cream cheese and tropical fresh mango for an irresistible treat for after school or tucked away in a lunch box.

Preheat the oven to 375°F and line a baking sheet with parchment paper.

In a large bowl, whisk together the cream cheese and honey until smooth.

On a clean work surface, lay out 8 crescent dough triangles. Place 1 spoonful of cream cheese mixture at the base of the triangle and top the cream cheese with 1 slice of mango. Roll the dough up from base to tip and place it seam-side down on the baking sheet. With a pastry brush, lightly brush the egg over the crescent rolls. 

Bake for 15 to 20 minutes, until golden. Transfer to a cooling rack to cool. Serve.