Cajun Salmon with Mango, Pineapple, Avocado Salsa
PREP TIME25 minutes

COOK TIME8 minutes

TOTAL TIME

SERVINGS4
Recipe submitted by Jen Sattley, Carlsbad Cravings
Cajun Salmon with Mango, Pineapple, Avocado Salsa
Ingredients
(4-6 oz. each) skinless salmon filets1 tablespoon olive oil2 tablespoons butter
Cajun Spice Mix
2 tsp EACH smoked paprika, garlic powder, onion powder
3/4 tsp EACH dried oregano, dried thyme , pepper
1 tsp salt
1/4 tsp cayenne pepper (omit for less heat)
Mango, Pineapple, Avocado Salsa
1 mango, chopped
1 cup chopped pineapple
1 avocado chopped
1/2 red bell pepper, minced
2 tbsp diced red onion
2 tbsp chopped cilantro
1 jalapeno seeded, deveined, diced
⅛-¼ tsp salt to taste
lime juice, to taste
PREP TIME 25 minutes

COOK TIME8 minutes

TOTAL TIME

SERVINGS4
Recipe submitted by Jen Sattley, Carlsbad Cravings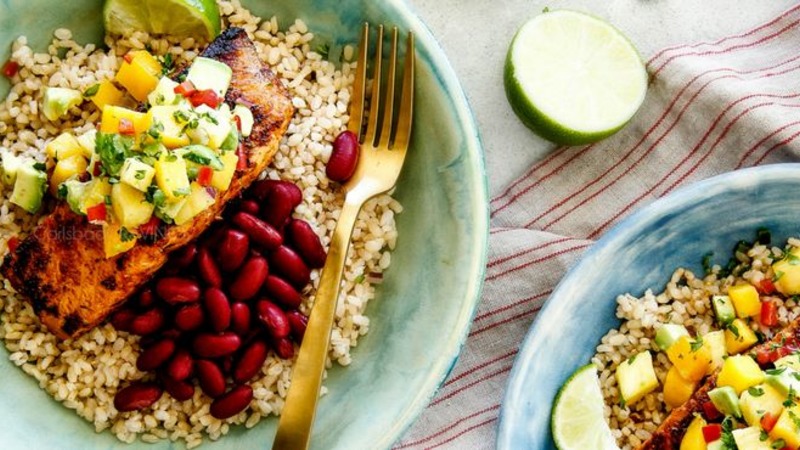 Instructions
Make the Marinade
Mix together all of the Spice Rub ingredients in a medium bowl. Remove 2 teaspoons Spice Rub to a shallow dish or large freezer bag (whatever you are going to marinate salmon in).

Whisk in remaining Marinade ingredients.Add salmon and turn to coat. Marinate at room temperature for 30-60 minutes. You will use remaining spices later in the Rub.
Prepare the Mango, Pineapple Avocado Salsa
Meanwhile, chop and add all of the Salsa ingredients EXCEPT AVOCADO to a large bowl.

Toss to combine. Refrigerate until ready to serve. Chop and add avocado just before serving so it doesn't brown.
Create the Spice Rub
After 30-60 minutes (no more), remove fish from marinade and pat dry. Rub remaining Spice Rub evenly all over fish.

The easiest way to do this is dip each fillet in the spice rub, front and back.
To cook
In a large nonstick skillet, heat 1 tablespoon olive oil over medium-high heat (medium if your stove runs hot).

Once hot, add fillets, turn heat down to medium and cook approximately 4 minutes, until crispy and blackened.

Flip salmon over and add butter. Cook an additional 3-6 minutes to your liking (will depend on thickness). Check salmon after 2 minutes to ensure it isn't cooking too quickly - if it is, then turn down the heat.
To serve
Remove salmon from skillet to individual plates and drizzle with pan juices. Serve with Mango, Pineapple Avocado Salsa.