Grilled Mahi Mahi Sandwich with Mango Slaw
PREP TIME

COOK TIME

TOTAL TIME

SERVINGS12
Source: Chef Chuck Hatfield, Sodexo
Grilled Mahi Mahi Sandwich with Mango Slaw
Ingredients
Mahi Mahi Sandwich
3 lbs Mahi Mahi, 4 oz Skinless Portions
3 Tbsp Honey
3 Tbsp Canola Oil
12 ½ Tsp Portions Ground Cinnamon and Chile
12 - 2 oz Portions Mango Slaw with Cashews and Mint
12 - 4 oz Ounce Whole Wheat Hamburger Buns
1 ½ Limes Wedge Cut in 8 Pieces
48 Fresh Carrot Sticks
Mango Slaw with Cashews and Mint
7 - ⅔ oz Fresh, Ripe, Peeled Mango
10 oz Napa cabbage
2 - ¼ oz Red Bell Pepper
2 - ¼ oz Red Onion
3 Tbsp Fresh Lime Juice
4 Tbsp Rice Wine Vinegar
1 Tbsp Honey
1 Tbsp Olive Oil
¼ Tsp Salt
⅛ Tsp Crushed Red Pepper Flakes
2 Tbsp Chopped Fresh Mint
¾ oz Cashews
PREP TIME

COOK TIME

TOTAL TIME

SERVINGS12
Source: Chef Chuck Hatfield, Sodexo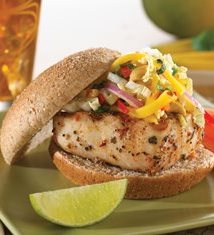 Instructions
To Prepare Mahi Mahi Sandwich:
Thaw fish under refrigeration at 40˚F or below.

Combine honey and oil.

Brush ½ tablespoon honey mixture on each piece of fish and sprinkle ½ teaspoon of cinnamon-chile rub on each piece of fish.

On a clean, well oiled char broiler place fish, oiled side down, and grill until minimum internal temperature is 145˚F (for 15 seconds).

Hold at 140˚F or above for service, no longer than 30 minutes.
Per Order:
Toast bun, using no margarine or butter. 

Place 1 piece of fish on heel of roll and top with 2 ounces Mango Slaw. 

Place crown of roll on sandwich to close.

Serve immediately with 1 lime wedge and 4 carrot sticks.
Shelf Life:
If leftover, do not reuse.
To Prepare Mango Slaw:
Toss mango, cabbage, red bell pepper and onion in a large bowl. 

In a separate bowl whisk together lime juice, vinegar, honey, oil, salt and red pepper flakes.

Pour over slaw and mix well to combine. 

Marinate under refrigeration at 40˚F or below for at least 2 hours prior to use.

Just before service: Add mint and cashews to marinated slaw and toss to combine. 

Hold refrigerated at 40˚F or below.

Use within 24 hours.