Thai Curry Meatballs with Spicy Mango
PREP TIME

COOK TIME

TOTAL TIME

SERVINGS0
Recipe submitted by Erin Lynch, Platings and Pairings.
Thai Curry Meatballs with Spicy Mango
Ingredients
Turkey Meatballs
1 large egg
1 clove garlic, minced or grated
1 tsp ginger paste, or finely minced ginger
2 tsp low-sodium soy sauce
1 pound ground turkey or chicken
1/2 cup plain breadcrumbs
2 green onions, thinly sliced
Coconut Curry Sauce
1 tbsp extra virgin olive oil
1 shallot, minced
1 can (14 ounce) full-fat coconut milk
2-3 tbsp Thai red curry paste (depending on how spicy you like it)
2 tbsp low-sodium soy sauce
2 tsp ginger paste, or finely minced ginger
Large handful of baby spinach
1 tbsp lime juice
1/4 cup fresh cilantro and/or basil, roughly chopped
Spicy Mangos
1 fresh mango, diced
1 serrano pepper, seeded and minced
1 lime, zested and juiced
Serve with
PREP TIME

COOK TIME

TOTAL TIME

SERVINGS0
Recipe submitted by Erin Lynch, Platings and Pairings.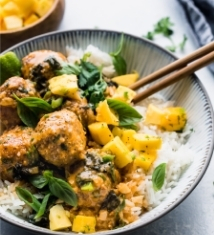 Instructions
Preheat oven to 450-degrees.

In a large bowl, whisk together egg, garlic, ginger and soy sauce. Add ground turkey, breadcrumbs, and green onions. Mix until just combined.

Form the meat into tablespoons sized balls (about 15-20 meatballs) and place them on a baking sheet. Bake for 15-20 minutes until cooked through.

Meanwhile, heat the olive oil in a large skillet over medium heat. Add the shallot and garlic and cook until shallot becomes translucent, about 2-3 minutes.

Add coconut milk, curry paste, soy sauce and ginger. Stir to combine and bring to a simmer. Add the cooked meatballs and simmer about 5 minutes, until they're well coated in the sauce.

Remove from the heat and stir in spinach, lime juice, cilantro and/or basil. Taste and season with additional salt and pepper, if needed.

Combine mango, serrano, lime zest and lime juice in a small bowl.

Serve meatballs and curry sauce over bowls of rice topped with spicy mango mixture.