Mango Harvest Wild Rice
PREP TIME

COOK TIME

TOTAL TIME

SERVINGS0
Recipe submitted by McKel Hill, Nutrition Stripped
Ingredients
2 cups vegetable stock
1 cup water
1/2 tsp sea salt
1 cup wild rice (or use a wild rice blend if it's easy to access)
2 tbsp olive oil
1/2 cup diced red onion
1 garlic clove, minced
Juice of 1 lemon
1 cup diced Honey Mango
1/4 cup pistachios
1/4 cup toasted unsweetened shredded coconut
1/4 cup chopped parsley
1 tsp ground cumin
Pinch of sea salt
Fresh black pepper
PREP TIME

COOK TIME

TOTAL TIME

SERVINGS0
Recipe submitted by McKel Hill, Nutrition Stripped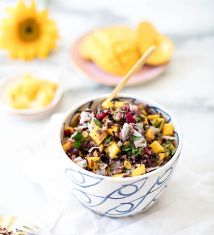 Instructions
Bring 2 cups vegetable stock and 1 cup of water to a boil. Add 1/2 teaspoon of sea salt and 1 cup wild rice. Bring everything to a boil, then reduce the heat to simmer (low boil). Cook until the rice is tender, about 35-40 minutes. Drain the rice using a colander. Set aside in a large mixing bowl.

In the meantime, while the rice is cooking, on medium heat add olive oil, onion, and garlic and cook until fragrant, about 5 minutes.

In a large mixing bowl, combine the cooked wild rice, sauteed onions, and garlic, with the remaining ingredients — mango, pistachios, coconut, lemon juice, and parsley. Adjust seasonings by adding sea salt and black pepper to taste.

Serve warm or cold, store leftovers in an air-tight glass container for up to 1 week.