Sriracha Mango and Basil Pasta
PREP TIME10 minutes

COOK TIME15 minutes

TOTAL TIME

SERVINGS4
Sriracha Mango and Basil Pasta
Ingredients
1 lb Dried Spaghetti
1/2 tsp Salt
1 cup Mango, cubed
2/3 cup Light Coconut Milk
1 Shallot, diced
1 tsp Sriracha Sauce
1/2 tsp Fresh Ginger, grated
2 tsp Toasted Sesame Oil
1 Red Bell Pepper, seeded and thinly sliced
10 Snow Peas, thinly sliced
2 tbsp Black or White Sesame Seeds
PREP TIME 10 minutes

COOK TIME15 minutes

TOTAL TIME

SERVINGS4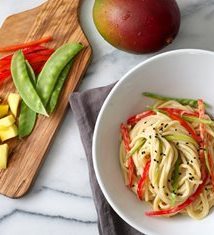 Instructions
Bring a large pot of water to a boil. Add spaghetti and salt and boil until pasta is cooked yet tender, about 10 minutes.

In a saucepan over high heat, combine mango, coconut milk, shallot, Sriracha and ginger. Bring to a boil then reduce heat to medium-low and simmer for 5 minutes.

Transfer to a blender and add sesame oil and a pinch of salt. Puree until smooth.

Reserve 1/3 cup of pasta water, then drain pasta.

Return the spaghetti to the pot and add sauce, the reserved pasta water, bell pepper and snow peas. Stir to combine.

Garnish each serving with 1 teaspoon sesame seeds.