Mango Panna Cotta
PREP TIME20 minutes

COOK TIME2 hours 5 minutes

TOTAL TIME

SERVINGS4
Recipe submitted by Olivia Crouppen, LivHungry.
Ingredients
Fresh Mango Juice
1 Ripe Mango
1/2 cup Water
Mango Panna Cotta
1 Packet Unflavored Powdered Gelatin
1/4 cup Water
1/2 cup Fresh Mango Juice
1 cup Heavy Cream or Coconut Milk
1 tsp Vanilla Extract
1/4 cup Coconut Sugar
Toppings
1 Ripe Mango, chopped
1 Lime
1 cup Pistachios, toasted & chopped
PREP TIME 20 minutes

COOK TIME2 hours 5 minutes

TOTAL TIME

SERVINGS4
Recipe submitted by Olivia Crouppen, LivHungry.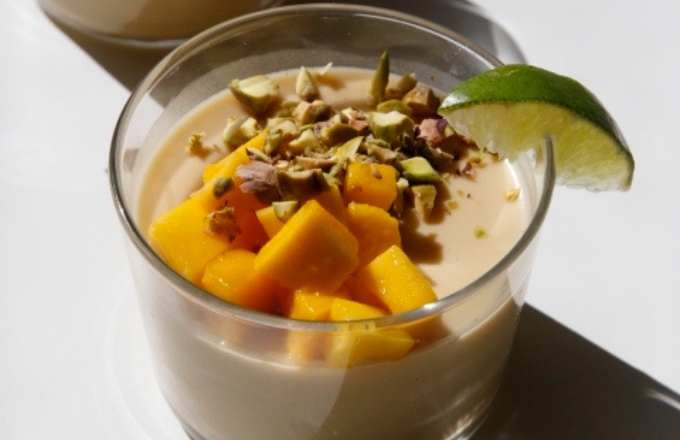 Instructions
Start by blooming the gelatin. Add one packet of gelatin to 1/4 cup of cold water and stir to combine. Set aside until this mixture becomes a solid jelly, about 10 minutes.

While the gelatin is blooming make the panna cotta mixture. Combining the mango juice, cream, vanilla and coconut sugar in a medium saucepan set over medium heat.

Whisk constantly until the mixture comes together and the sugar is dissolved then set aside to cool for about 5 to 10 minutes.

Once the milk has slightly cooled add the bloomed gelatin into the mango cream mixture and whisk well until the gelatin disappears.

Transfer this mixture to the serving dishes of your choice. Place in the fridge for a minimum of two hours to overnight.

When you're ready to serve, dice the mango and squeeze over the lime juice. Spoon this mixture on top of the panna cotta then sprinkle over the chopped pistachios. Enjoy! * Cover leftover Panna cotta in the fridge for up to 4 days.