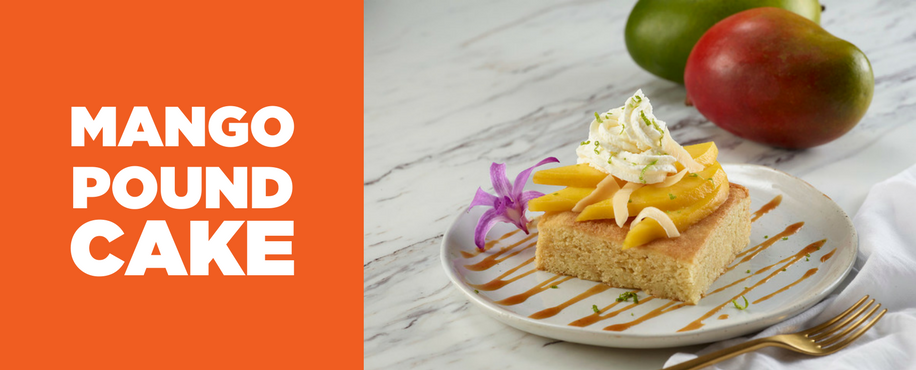 INGREDIENTS
Cold Smoked Mango
5 ripe mangoes
As needed fruit tree wood (apple, cherry, peach)
Mango Pound Cake
400 grams coconut oil, room temperature
320 grams granulated sugar
2 grams fine grain salt
10 grams vanilla extract
200 grams whole egg, room temperature
375 grams all-purpose flour
7 grams baking soda
5 grams baking powder
200 grams coconut milk
400 grams pureed ripe mango, room temperature
Brown Butter Rum Caramel
510 grams granulated sugar
114 grams glucose syrup
170 grams water
340 grams heavy cream
170 grams brown butter
1 gram fine grain salt
1 vanilla bean, split and scraped
Coconut Whipped Crémeux
500 grams heavy cream
112 grams granulated sugar
112 g shredded desiccated coconut
2 sheets of silver gelatin sheets, bloomed in ice water
Cold Smoked Mango
Peel mangos and cut the cheeks away from the seed. (Cut remaining fruit away from seed and reserve for use in Mango Pound Cake.)
Place fruit skin side down on glazing racks.
Prepare a fire in smoker, using wood that's been soaked in water for a minimum of half an hour. Set temperature to 200ºF (100ºC) until wood starts to smoke. Turn temperature dial off and place a deep hotel pan of ice near the bottom rack of the smoker. Then set temperature to 100ºF (40ºC).
Place mangoes on rack in the smoker and close the lid or door. For a light smoke flavor, smoke for 30 minutes; medium smoke, 45 minutes; heavy smoke, 60 plus minutes.
Mango Pound Cake
In the bowl of a 5 quart stand mixer, paddle coconut oil, granulated sugar, fine grain salt, and vanilla extract on medium speed until smooth and creamy, approximately 5 minutes.
Add eggs in four increments, padding for 30 seconds after each addition. After adding the final egg, scrape the bowl and paddle on medium for 2 minutes.
Sift together flour, soda, and powder.
Blend together coconut milk and mango puree.
Fold the dry ingredients into the coconut oil mixture alternately with the mango-coconut milk mixture in three additions, ending with the dry ingredients and scraping well in between.
Deposit batter into a spray, lined, and sprayed half sheet pan. Level with an offset spatula as needed.
Bake at 350° F (non-convection) for 15 minutes, rotate pans, and continue baking until "comes out clean," approximately 15 additional minutes.
Allow to cool to room temperature. Wrap and chill overnight.
Trim as needed and slice cake into 5.5"x1.5" planks.
Wrap and hold for service.
Brown Butter Rum Caramel
Combine sugar, glucose syrup, and water in a 3 quart, heavy bottom pot.
Cook over high heat to a dark caramel, approximately 350°F.
Turn off heat and carefully add cream, brown butter, salt, vanilla bean pods, and seeds.
Return to a boil, stirring until smooth.
Strain and chill in a stainless container set in an ice bath.
Allow to cool to 100°F and stir in rum. Continue to cool on ice bath to 40°F.
Refrigerate until needed.
Coconut Whipped Crémeux
Heat heavy cream, granulated sugar, and coconut to a simmer in a pot.
Stir in bloomed gelatin to dissolve.
Set mixture aside to steep for at least 1 hour at room temp.
Strain though as fine mesh chinois and refrigerate overnight.
In a stand mixture fitted with the whip attachment, whip coconut cream to stiff peaks. Transfer to a pastry bag.
Recipe courtesy of M. Kelly Wilson, CEPC
Culinary Institute of Charleston at Trident Technical College