No-Bake Coconut Mango Cheesecake Bites
PREP TIME25 minutes

COOK TIME4 minutes

TOTAL TIME29 minutes

SERVINGS0
Recipe submitted by Amanda Paa, Heartbeet Kitchen's
No-Bake Coconut Mango Cheesecake Bites
Ingredients
Filling
1 (8 ounce) package full fat cream cheese, softened to room temperature
1 (5.4 ounce) can  can unsweetened coconut cream
2 tablespoons  fresh lemon juice
1 teaspoon vanilla bean paste
1/4 teaspoon sea salt
1 ripe mango, flesh scooped out
Crust
40 grams (1/2 cup) almond flour
85 grams soft, pitted dates
50 grams (1/2 cup) old fashioned oats
1 1/2 tablespoons melted coconut oil
teaspoon teaspoon sea salt
PREP TIME 25 minutes

COOK TIME4 minutes

TOTAL TIME29 minutes

SERVINGS0
Recipe submitted by Amanda Paa, Heartbeet Kitchen's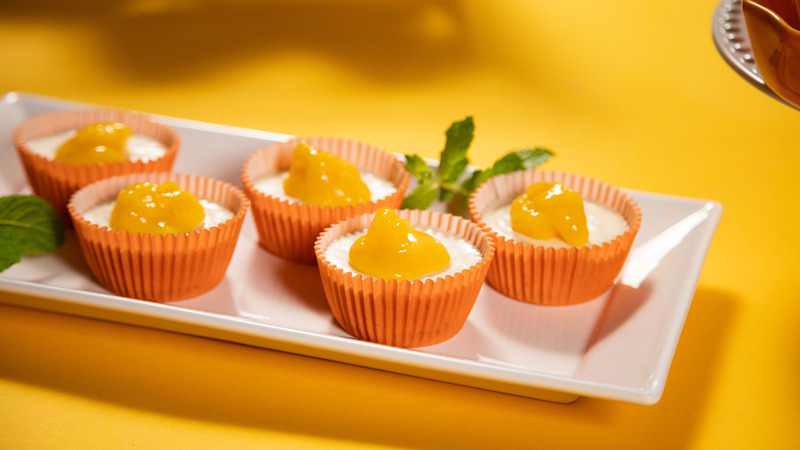 Instructions
When you set your cream cheese out, put your can of coconut cream into the refrigerator. You want it to get a bit cold, so the cream separates from the liquid in the can. When it's cold, open one side of the can and gently scoop all of the coconut cream from the top, avoiding the water that has sunk to the bottom.

Add your softened cream cheese and the coconut cream to a food processor. Process for 20 seconds. Add powdered sugar, lemon juice, vanilla bean paste, and salt. Process until completely smooth.

To make crust, pulse almond flour and dates in a clean food processor, 20 times. Add oats, coconut oil, and salt. Continue to pulse and process, until mixture starts sticking together.

Press 1 tablespoon of mixture into the bottom of each of the nine muffin liners. If it is sticking to your finger, lightly wet it. Divide filling evenly into all cups.

Refrigerate for at least four hours.

Before serving, purée the mango and spoon some on top of each cheesecake. Serve or refrigerate until ready to eat.