Mango Bread with Mango Glaze
PREP TIME2 minutes

COOK TIME

TOTAL TIME

SERVINGS1
Recipe courtesy Chef Jason Hernandez
Mango Bread with Mango Glaze
Ingredients
1/4 cup Butter
3/4 cup Sugar
1/2 cup Mango Puree
1 Large Egg, whisked
1 tsp Vanilla Extract
2 tbsp Lime Juice
1 tsp Lime Zest
1 1/2 cup All-Purpose Flour
1 1/2 tsp Baking Powder
1/2 tsp Salt
1/4 tsp Ground Cinnamon
1/4 tsp Ground Cardamom
1 cup Chopped Walnuts
1 cup Mango, diced
1 1/2 cup Powdered Sugar
1 tsp Lime Juice
1/8 tsp Salt
3 tbsp Mango Puree
PREP TIME 2 minutes

COOK TIME

TOTAL TIME

SERVINGS1
Recipe courtesy Chef Jason Hernandez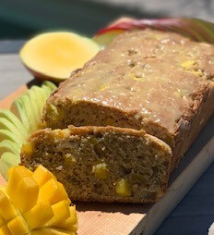 Instructions
Preheat the oven to 350°F. Spray coat a 9x5x3-inch loaf pan, making sure the spray covers the corners and edges.

In a large bowl cream the butter and sugar. Add the mango puree, egg, vanilla, lime juice, and lime zest and mix until smooth.

In a separate large bowl combine the flour, baking powder, baking soda, salt, cinnamon, and cardamom; whisk to combine completely.

Add the butter mixture to the flour mixture, stirring just until the dry ingredients are moistened.

Using a spatula, fold the walnuts and diced mango into the cake mixture, making sure to combine all ingredients for even baking.

Pour the batter into the prepared loaf pan, and bake for 40 minutes or until a toothpick inserted in the center comes out clean.

Set the pan on a rack and cool for 10 minutes before removing to ensure that the loaf comes out clean. Turn the loaf onto the rack and cool completely, about an hour.

In a small bowl mix the powdered sugar, lime juice, salt, and mango puree until the sugar is completely incorporated and the mixture thickens. Taste for salt and add as needed.

Once the bread is completely cooled drizzle the glaze over the top or serve in a ramekin to spread on the slices.