Dairy-Free Mango Creamsicles
PREP TIME10 minutes

COOK TIME

TOTAL TIME

SERVINGS10
Dairy-Free Mango Creamsicles
Ingredients
2 Mangos, cubed
1/2 cup Coconut Yogurt (Plain or Vanilla)
1/2 cup Dairy-free Milk of Choice
1/4 cup Coconut Sugar
1/2 cup Canned, unsweetened Coconut Cream
1 tbsp Honey or Agave
1 tsp Vanilla Extract
PREP TIME 10 minutes

COOK TIME

TOTAL TIME

SERVINGS10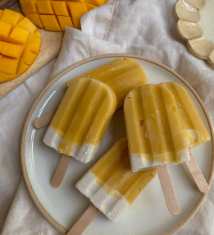 Instructions
Add the mango, coconut yogurt, milk of choice, and coconut sugar into your blender. Blend until smooth.

Pour blended mango mixture into your popsicle molds, leaving about ¼ of the mold unfilled. Set in freezer for 30 minutes.

Meanwhile, in a bowl whisk your coconut cream, honey or agave, and vanilla together until smooth.

Remove popsicles from the freezer, then pour coconut cream mixture into the remaining ¼ of the popsicle mold. Add your popsicle sticks to your mold, then freezer for at least 4-6 hours, or until popsicles are completely frozen.