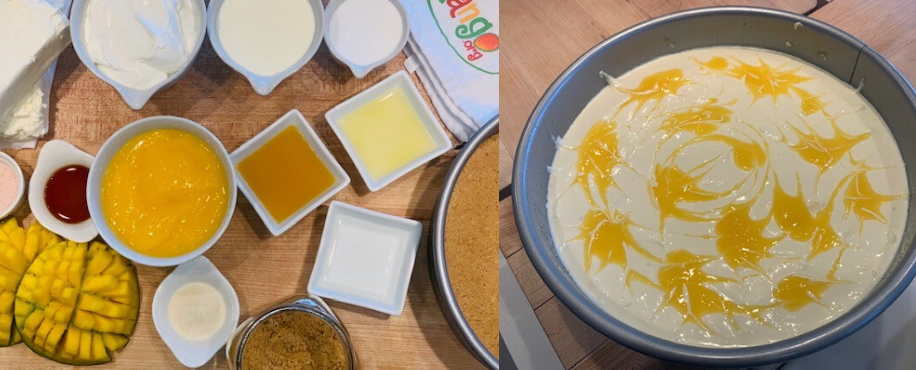 INGREDIENTS
16 oz cream cheese, softened
1 cup sour cream
8 fl oz heavy cream
1/4 cup sugar
1/8 tsp salt
1 tsp vanilla extract
1 cup mango puree
1.5 fl oz mango vinegar or apple cider vinegar
1 tbsp lemon juice
1 tsp gelatin
1 fl oz warm water
1 cup fresh mango pieces, 1/4"
Graham cracker crusted 8-inch springform pan
In a large mixing bowl combine the cream cheese, sour cream, and heavy cream and mix with hand mixer until smooth.
Add in the sugar, salt, and vanilla extract. Mix until fully combined.
Add in the mango puree, vinegar, and lemon juice and mix on medium speed until the mixture is smooth with no lumps.
In a separate bowl, place the warm water and gelatin and whisk to combine. Slowly add 2 oz of the cheesecake mixture into the water to temper (to make sure that is not too hot). Then gradually add mixture to the cheesecake bowl and mix well for 1 minute to combine.
Using a spatula, fold in the mango pieces.
Pour the mixture into a graham cracker crusted 8-inch springform pan and level out. Gently shake the pan and tap on counter to make sure that there are no are bubbles inside of the cake.
Refrigerate, uncovered, overnight and serve the following day.
Optional garnishes: mango puree drizzle or fresh mango pieces.
Recipe submitted by Blade & Tine Culinary Consultants