Mango Coconut Crisp
PREP TIME20 minutes

COOK TIME25 minutes

TOTAL TIME

SERVINGS8
Ingredients
Creamy Filling
4 Cups Fresh Mango
1/4 Cup Sugar
Topping
3/4 Cup Flour
1 Cup Dark Brown Sugar
1 Stick Unsalted Butter
3/4 Cup Rolled Oats
1/2 Cup Shredded Sweetened Coconut
PREP TIME 20 minutes

COOK TIME25 minutes

TOTAL TIME

SERVINGS8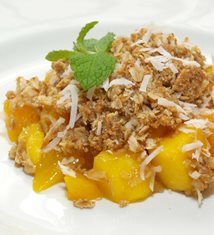 Instructions
For the Filling:
Preheat the oven to 375° F.

Combine the mangos and ¼ cup of sugar. 

Taste for sweetness.

Add another ¼ cup of sugar if needed. 

Place the mixture into buttered 8" x 8" baking dish and set aside.
For The Topping:
In a food processor add the flour and dark brown sugar then process to combine. 

Add the cold butter pieces and pulse until it has a sandy texture. 

Add the oats and pulse only a few times until you have a crumbly mixture. 

You do not want to chop up the oats too much. 

Remove this mixture and put into a bowl.

Stir in ½ cup of shredded coconut.

Sprinkle the mixture over the top of the mangoes, covering completely. 

Bake at 375°F for 25 to 30 minutes until golden brown. 

Remove from the oven and sprinkle with remaining coconut.

Serve warm.