Dairy-Free Mango Scones
PREP TIME15 minutes

COOK TIME25 minutes

TOTAL TIME

SERVINGS3
Ingredients
2 ¼ Cups Flour
¼ Cup Coconut Sugar
2 Tsp Baking Powder
½ Tsp Salt
1 Egg
½ Cup Coconut Oil
1 Tsp Vanilla Extract
¼ Tsp Almond Extract
¾ Cup Coconut Milk
½ Cup Fresh Mango
PREP TIME 15 minutes

COOK TIME25 minutes

TOTAL TIME

SERVINGS3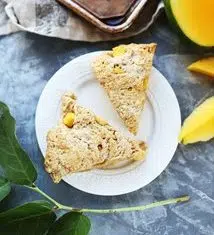 Instructions
Preheat oven to 375ºF.

In a large bowl, mix together all dry ingredients: flour, sugar, baking powder and salt.

Using a pastry cutter or fork, cut solid coconut oil into the flour.

In a separate bowl, mix together wet ingredients (not coconut oil): egg, coconut milk, vanilla extract and almond extract.

Create a well in the bowl with the dry mixture and pour the wet mixture into it.

Fold together without over-mixing and stir in the fresh mango chunks.

Form a circular mound with the dough, scoring into 8 triangular pieces (like a pizza).

Add a sprinkle of sugar over the dough.

Bake for 15 minutes, separate the pieces and bake for another 10-15 minutes until a toothpick comes out clean.