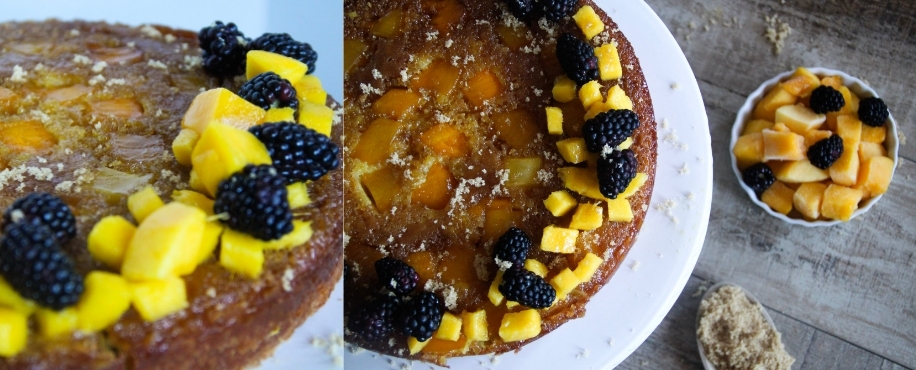 INGREDIENTS
1 1/2 sticks unsalted butter, softened (divided)
1/2 cup light brown sugar
1 large mango, peeled, pitted and sliced ¼-inch thick
1 1/2 cups all-purpose flour
1 teaspoon baking powder
1/4 teaspoon salt
1/4 teaspoon ground cloves
1/4 teaspoon cinnamon
1 cup granulated sugar
1/2 teaspoon orange zest
3 eggs, separated
1 teaspoon vanilla extract
1/3 cup mango nectar
1/3 cup milk
Whipped cream and candied orange peel (optional)
Preheat oven to 350 degrees. Butter a 9-inch round cake pan, set aside.

In small saucepan, melt ½ stick of butter and stir in brown sugar, simmer for about 2 minutes. Pour mixture into prepared cake pan and top with sliced mango, creating a fan pattern.

In medium bowl, whisk together flour, baking powder, salt, cloves, and cinnamon. Set aside.

In another bowl, using an electric mixer, beat remaining 1 stick softened butter, granulated sugar and orange zest on high until pale yellow and fluffy, about 5 minutes. Add whole egg yolks, 1 at a time until incorporated. Add vanilla. Decrease speed to low and add half of flour mixture. Mix in mango nectar and milk and then remaining flour mixture.

In another bowl, beat egg whites until soft peaks form then fold into batter.

Carefully pour cake batter over mangos, spreading evenly. Bake for about an hour, or until toothpick inserted into center of cake comes out clean. Cool in pan for 15 minutes then invert cake onto plate. Cool completely on a wire rack. Garnish with whipped cream and candied orange peel.

Each serving (1 slice of cake) contains 421 calories, 58g carbohydrate (19% Daily Value), 1g fiber (5% Daily Value), 5.5g protein (11% Daily Value), 19g fat (30% daily value), 12g saturated fat (58% Daily Value), 116mg cholesterol (39% Daily Value), 156mg sodium (6% Daily Value), and 131mg potassium (4% Daily Value), 11mg vitamin C (19% Daily Value), 1003 IU vitamin A (20% Daily Value), 88mg calcium (9% Daily Value), 1.66 mg iron (9% Daily Value).