Mango Pancakes with Mango Citrus Syrup
PREP TIME25 minutes

COOK TIME30 minutes

TOTAL TIME

SERVINGS4
Source: Chef Michael Moorman, M Henry's, Chicago, IL
Mango Pancakes with Mango Citrus Syrup
Ingredients
Mango Citrus Syrup
1/2 cup sugar
1/2 cup water
1 tbsp lemon juice
2 ripe fresh mangos, peeled, seeded, diced 1-inch (about 2 cups)
Vanilla Mascarpone Cream
2 cups mascarpone cheese
1/4 cup sugar
1/2 tsp vanilla
pinch of salt
Pancakes
2 cups all-purpose flour
1/4 cup sugar
4 tsp baking soda
1/2 tsp salt
1⅓ cups milk
2 eggs
4 tbsp butter, melted
Vegetable oil for cooking
Topping
1/2 cup honey oat granola
1 ripe fresh mango, peeled, seeded, thinly sliced, for garnish
Powdered sugar for dusting
PREP TIME 25 minutes

COOK TIME30 minutes

TOTAL TIME

SERVINGS4
Source: Chef Michael Moorman, M Henry's, Chicago, IL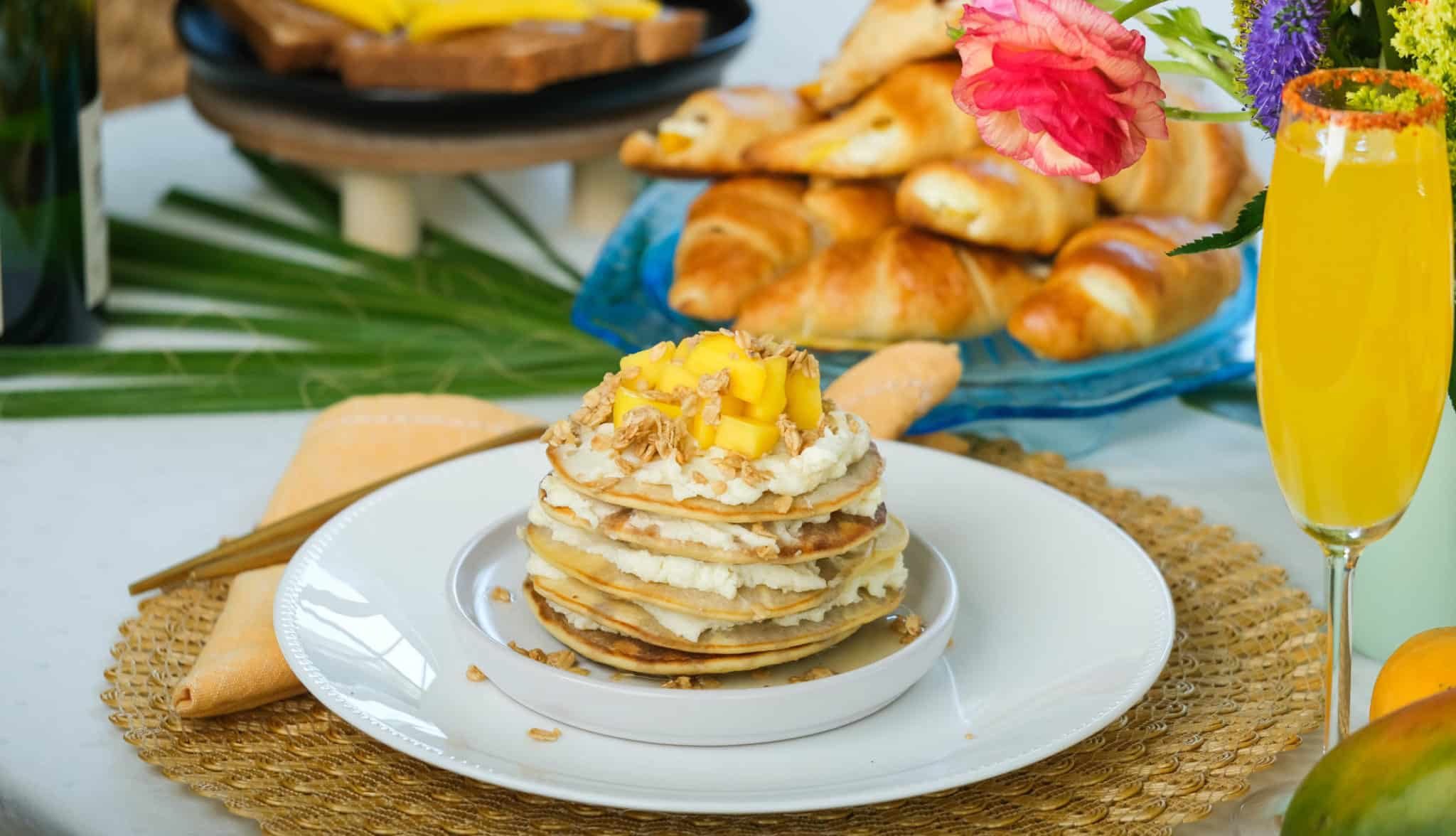 Instructions
To make Mango Citrus Syrup
In a medium pan, combine the first 3 ingredients and bring to a boil, stirring until sugar has dissolved. Add diced mango to syrup. Reduce temperature to low; keep warm. Makes 2-2/3 cups.
To make Vanilla Mascarpone Cream
Combine all ingredients until well blended. Makes 2 cups.
To make pancakes (2 per serving)
In a large bowl, combine flour, sugar, baking soda, and salt and whisk until blended. In a smaller bowl, combine the milk and eggs, whisking well. Add the egg and milk mixture to the dry ingredients and gently whisk to combine. Stir in melted butter. Do not over beat the batter; there should be no lumps.

Heat 1 teaspoon oil in a skillet over medium heat. When pan is hot, ladle on 1/3-cup portions of pancake batter and swirl around to make 6-inch diameter pancakes. When bubbles form on the top, flip and cook another minute until the bottom is golden brown.
To plate
Place a single pancake in center of plate. Top with ½ cup Vanilla Mascarpone Cream in the center of the pancake. Ladle 2/3 cup of the warm mango mixture on top of the cream. Place another pancake on top and press down lightly. Sprinkle 2 tablespoons of honey granola on top and dust the stack with powdered sugar. Garnish with mango slices; serve immediately.