Mango French Toast with Maple Mango Syrup
PREP TIME20 minutes

COOK TIME

TOTAL TIME

SERVINGS0
Recipe submitted by Blade & Tine Culinary Consultants
Mango French Toast with Maple Mango Syrup
Ingredients
1 loaf Sourdough bread
6 eggs
16 fl oz milk
4 fl oz heavy cream
2 tbsp Madagascar vanilla bean (or vanilla extract)
1/2 tsp ground cinnamon
1/2 cup fresh mango pieces
4 fl oz maple mango syrup (or maple syrup)
1 cup mango chutney
1/4 cup powdered sugar for garnish
Mango Chutney
1 tbsp olive oil
1/2 tsp red prepper flakes
1/2 onion, minced
2 tsp garlic, minced
1 tbsp ginger, minced
1 cup sugar
1/4 cup mango puree
1 fl oz mango vinegar (or apple cider vinegar)
1/2 tsp sumac (optional)
1 tsp salt
2 lbs mango, diced ¼"
Mango Maple Syrup
8 fl oz maple syrup
2 tbsp mango vinegar or apple cider vinegar
1 fl oz mango puree (optional)
1/2 tsp vanilla extract
PREP TIME 20 minutes

COOK TIME

TOTAL TIME

SERVINGS0
Recipe submitted by Blade & Tine Culinary Consultants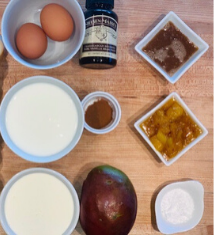 Instructions
French Toast
Cut bread into slices about 1 inch thick.

Place eggs, milk, heavy cream, vanilla, and cinnamon into bowl. Whisk to combine.

Heat a griddle, large frying pan or flat top to medium high heat.

Dip bread slices into egg mixture and then place on hot griddle until browned and crisp, turning once. Transfer to a warmed plate and tent with waxed paper to keep warm until ready to serve.

Serve with Mango Chutney and/or Maple Mango Syrup, and top with diced mango.

OPTIONAL SHAPES: Use cookie cutters to cut shapes and designs. Once you have all of the shapes cut out, tear the remaining pieces of bread into about 1-inch pieces and toss with remaining milk and egg mixture and diced mango to make a small bread pudding. Place in a buttered baking dish or cast iron pan to hold the mixture and bake at 350 degrees F for about 10 minutes. Once cooked pull out of the oven and top with Mango Chutney and/or Maple Mango Syrup.
Mango Chutney
Place oil in pan and on high heat. When the oil is hot add in the onion and sear.

Let the onions soften but not caramelize. Once they are soft turn heat down to medium, add in the garlic and let sear for 30 seconds.

Then stir in the ginger, sugar, mango puree and vinegar. Mix and stir to dissolve the sugar on medium heat. Once the mixture starts to bubble stir in the seasonings and diced mango.

Transfer mixture to a glass bowl and set aside to cool.
Mango Maple Syrup
Combine all ingredients in a 16-oz. jar with a tight fitting lid, and shake until thoroughly combined.