Mango Madness Sushi Roll
PREP TIME

COOK TIME

TOTAL TIME

SERVINGS2
Recipe by Chef Mikel Anthony with Chef's Roll
Ingredients
nori dried seaweed sheets
mango slices
avocado slices
Sushi Rice
1 cup sushi rice
1 tbsp vinegar
1 tsp sugar
Mango Puree
1 ripe mango
1 tbsp ponzu
1/2 tsp wasabi
water
Shrimp Tempura
4 jumbo shrimp (16-20), butterflied flat
Tempura batter mix
Imitation Crab Mixture
4 oz imitation crab
2 tbsp mayonnaise
1/2 tsp crab seasoning or to taste
PREP TIME

COOK TIME

TOTAL TIME

SERVINGS2
Recipe by Chef Mikel Anthony with Chef's Roll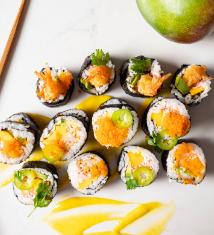 Instructions
Sushi Rice
Cook rice according to package instructions with the addition of vinegar and sugar.
Mango Puree
Puree mango with ponzu and wasabi until smooth.

Cook over medium heat until mixture coats the back of a spoon.

Let cool.
Shrimp Tempura
Prepare tempura batter, dip prepared shrimp into batter and fry.

Let cool before assembly.
To Assemble
Place Nori seaweed flat.

Dip your hands in the water.

Lay a thin layer of rice down in the middle and push out towards the edges until paper is covered.

Place a thin layer of crab mixture, about ½ inch thick, in the middle from one side to the other.

Top with avocado, mango, two pieces of shrimp with tails out.

Roll into a cylinder and slice into 8 pieces.