Mango Crumb Bars
PREP TIME

COOK TIME

TOTAL TIME

SERVINGS0
Ingredients
For the Crust
1¾ cup all-purpose flour
3/4 cup cane sugar
1/4 cup unsweetened shredded coconut
1/2 tsp baking powder
1/4 tsp salt
1/2 cup cold butter
1 egg
For the Filling
1 cup mango, diced (from 1½ mangos)
3 tbsp cane sugar
2 tbsp unsweetened shredded coconut
1 tbsp all-purpose flour
PREP TIME

COOK TIME

TOTAL TIME

SERVINGS0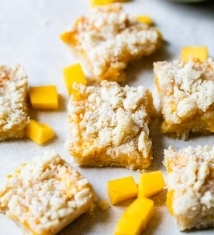 Instructions
Preheat oven to 350°.

Add flour, sugar, coconut, baking powder, and salt to a large bowl.

Use a box grater to grate the butter into that bowl, then use your hands or a fork to combine. Then, add in the egg and stir. The dough should be wet enough to clump up when you squeeze it in your palm, but not sticky.

Grease an 8x8 baking dish with coconut oil, then transfer ¾ of the dough to the dish, using your hands to press it down; set aside.

For the filling: add mango, sugar, coconut, and flour to a small bowl and stir to combine. Pour mango on top of the crust, using a spoon or spatula to spread it out.

Sprinkle the remaining dough on top of the mango filling, then place the baking dish in the oven and bake for 25 minutes, or until the edges are golden brown.

Wait at least 20 minutes after the bars are out of the oven before cutting them.