Mango Coconut Macaroons
PREP TIME20 minutes

COOK TIME30 minutes

TOTAL TIME

SERVINGS30
Ingredients
1 (14-ounce) bag sweetened flaked coconut
1 large mango, peeled, seeded and diced
1 cup mango jam (see recipe below)
2 tbsp corn syrup
1 tsp vanilla extract
2 tsp ground ginger
2 eggs, separated
1/4 tsp salt
For the Mango Jam
2 large mangos, peeled, pitted and roughly chopped
1 cup mango nectar
1/4 cup granulated sugar
2 tsp ground ginger
1 tsp vanilla extract
PREP TIME 20 minutes

COOK TIME30 minutes

TOTAL TIME

SERVINGS30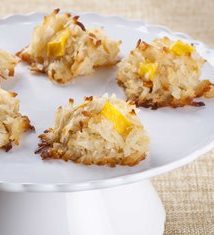 Instructions
For Mango Coconut Macaroons
Preheat oven to 325 degrees. Line two baking sheets with parchment paper, set aside.

In a large bowl, combine coconut, diced mango, mango jam, corn syrup, vanilla and ginger, egg whites and salt, until fully incorporated.

Drop heaping tablespoonful of batter onto prepared baking sheets. Bake for 30 to 35 minutes until golden brown. Transfer to wire rack to cool.
For the Mango Jam
In medium saucepan, combine all ingredients. Bring to a boil then reduce heat to medium-low. Gently mash mango mixture with back of wooden spoon or potato masher to create smooth jam; simmer for 15 minutes until thickened.