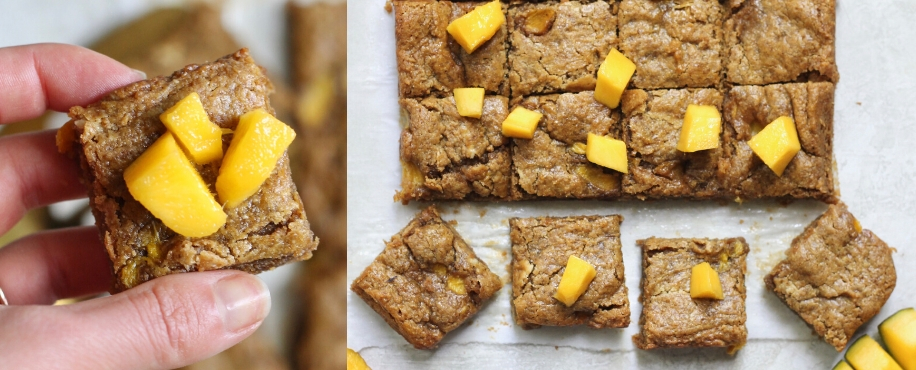 INGREDIENTS
1 cup creamy cashew butter (can sub almond butter)
1/2 cup oat flour*
1 large egg
2/3 cup coconut sugar (or organic cane sugar)
1 1/2 tsp vanilla extract
1/4 tsp fine sea salt
1/2 tsp baking soda
3/4 cup firm (not over-ripe) mango, diced small
Preheat oven to 350F. Spray an 8x8inch baking dish with cooking spray and line with parchment paper.
In a large mixing bowl, stir together the cashew butter, egg, coconut sugar, vanilla, salt, and baking soda until combined. Gently fold in mango and coconut, if using.
Use a rubber spatula to pour batter into lined baking dish.
Bake for about 19-20 minutes, until blondies are golden brown. Cool pan on a cooling rack for 15 minutes before carefully removing blondies from pan to cool completely.
Notes
To Make Oat Flour: If you don't have store bought, make your own by grinding old fashioned oats in the blender until it resembles a fine flour.
To Store: Store blondies on the countertop in an air-tight container for up to two days. Store any additional leftovers in fridge for up to a week.
To Freeze: Place blondies spaced apart on a lined baking sheet. Once solid, place the frozen blondies in a freezer baggie. They will stay fresh for up to four months.