Mango Coconut Curry Soup
PREP TIME

COOK TIME

TOTAL TIME

SERVINGS0
Recipe by Matt Robinson, Real Food By Dad
Check out our blog for more cozy soup recipes.
Ingredients
1 Tbsp Oil
1 Garlic Clove
2 Tbsp Curry Powder
1 Cup Full Fat Coconut Milk
1/4 Cup Fish Sauce
1 Tbsp Brown Sugar
2 Large Carrots
2 Mangos
3-4 Tbsp Sliced Green Onions
1 Shallot
1 Tbsp Ginger
1/2 Tsp Tumeric
4 Cups Chicken Stock
2 Tbsp Soy Sauce
2 Medium Russet Potatoes
2 Cups Cubed Rotisserie Chicken Breast
5-6 Cilantro Sprigs
2 Tbsp Sliced Serrano Peppers
PREP TIME

COOK TIME

TOTAL TIME

SERVINGS0
Recipe by Matt Robinson, Real Food By Dad
Check out our blog for more cozy soup recipes.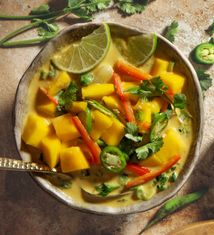 Instructions
In large heavy-bottom saucepan, over medium high heat: Heat the oil until hot, add the shallot, garlic and turmeric.

Cook and stir for 30 seconds until fragrant.

Stir in the coconut milk, then add the chicken stock, fish sauce, soy sauce and brown sugar.

Bring to a boil for 2-3 minutes.

Add potatoes, carrots and turn down heat to low.

Cover and cook until vegetables are fork tender, about 90 minutes.

Serve with cubed mango, cilantro, green onions, red bell pepper and serrano peppers.