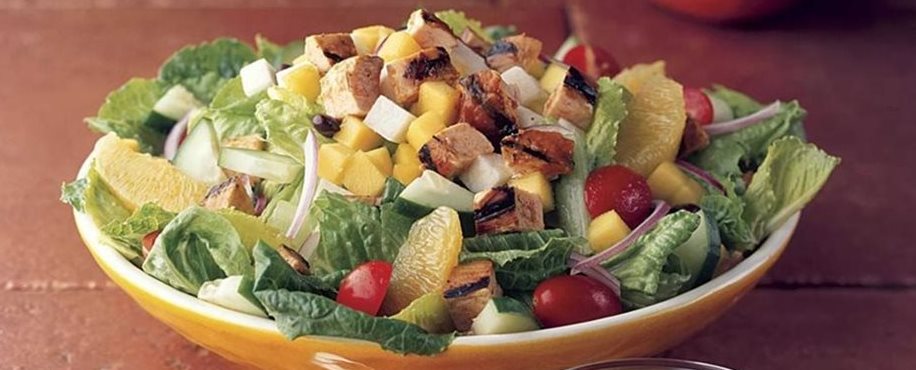 INGREDIENTS
2 pounds 10 ounces chopped romaine lettuce
1 pound 8 ounces peeled and pitted ripe Fresh Mango, diced ¼ inch
12 ounces peeled jicama, diced ¼ inch
12 ounces cucumber, quartered and sliced
6 ounces red onion, thinly sliced
1 pound 2 ounces grape tomatoes, halved
6 ounces black beans, drained and rinsed
1 pound 2 ounces orange segments
ANCHO MANGO BARBECUE CHICKEN:
1/2 teaspoon olive oil
1 ounce onion, diced 1/4 inch
10 ounces peeled and pitted ripe Fresh Mango, diced 1 inch
1 cup ketchup
1 tablespoon ancho pepper powder
2 pounds 6 ounces chicken breast
CHIPOTLE ORANGE DRESSING:
5/8 teaspoon minced garlic
1 tablespoon + 3/8 teaspoon minced shallot
9 tablespoons fresh orange juice
1 2/3 teaspoons minced chipotle pepper in adobe sauce
1/4 teaspoon ground cumin
2 tablespoons + ¾ teaspoon fresh lemon juice
7 tablespoons olive oil
1/4 teaspoon salt
1/4 teaspoon freshly ground black pepper
Per serving:
Place 3 ½ ounces lettuce on plate or in to-go container. Top with 2 ounces mango, 1 ounce jicama, 1 ounce cucumber, ½ ounce onion, 8 halves tomato, ½ ounce black beans, 2 ½ ounce portion ancho chicken and 6 orange segments. Hold refrigerated for same day service.


To make Ancho Mango Barbecue Chicken:
Heat oil in sauce pan; sauté onion until soft. Add mango, ketchup and ancho pepper powder; simmer 15 minutes. Puree in blender. Cool mixture quickly. Coat chicken breast with cooled sauce; marinate 1 hour. Grill chicken until marked on both sides. Finish in 275˚F oven until cooked through, 7 to 10 minutes. Hold hot or cool quickly and use within 72 hours.


To make Chipotle Orange Dressing:
In a bowl, combine garlic, shallot, orange juice, chipotle, cumin and lemon juice; slowly whisk in olive oil until emulsified. Season with salt and pepper.

Source: Chef Chuck Hatfield, Sodexo

Hold refrigerated and use within 3 days