Grilled Corn and Mango Salad
PREP TIME20 minutes

COOK TIME5 minutes

TOTAL TIME

SERVINGS6
Nutritional analysis per serving (for 6 servings): Calories 220; Protein 5 g; Carbohydrates 39 g; Fat 7 g; 11% Calories from Fat; Cholesterol 7 mg; Sodium 248 mg; Potassium 513 mg; Fiber 5 g
Grilled Corn and Mango Salad
Ingredients
3 tbsp low-fat mayonnaise
2 limes, zested and juiced
1 small Serrano chili, ribs and seeds removed and minced
1/2 tsp chili powder
4 ears of corn, husks removed
2 tsp vegetable oil
3 mangos (about 2 pounds) (2 mangos peeled, pitted and diced, save hollowed mango cheeks for bowls; Cut cheeks off of remaining mango and scoop out enough mango flesh to form a shallow bowl, dice for garnish)
1 red bell pepper, finely diced
1/4 cup crumbled cotija, queso fresco or feta cheese
2 tbsp chopped cilantro
Salt and pepper
PREP TIME 20 minutes

COOK TIME5 minutes

TOTAL TIME

SERVINGS6
Nutritional analysis per serving (for 6 servings): Calories 220; Protein 5 g; Carbohydrates 39 g; Fat 7 g; 11% Calories from Fat; Cholesterol 7 mg; Sodium 248 mg; Potassium 513 mg; Fiber 5 g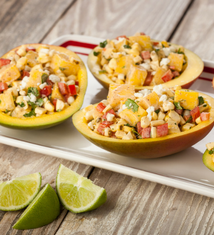 Instructions
In a large bowl, whisk mayonnaise, lime juice and zest, Serrano, chili powder and ½ teaspoon salt.

Preheat outdoor grill or indoor grill pan over medium-high heat. Brush corn with vegetable oil and season with salt and pepper. Grill corn, turning occasionally to char all sides, 5 to 6 minutes.

Remove from grill and using chef's knife, cut corn from cob into large bowl containing dressing.

Fold in bell pepper and diced mango; top with mango, cheese and cilantro.

Serve at room temperature or chilled in individual mango cheek bowls.