Thai Steak and Mango Salad
PREP TIME5 minutes

COOK TIME8 minutes

TOTAL TIME

SERVINGS4
Thai Steak and Mango Salad
Ingredients
3 clvoes garlic, finely chopped
4 coriander roots, finely chopped
1 tsp Kosher salt
1/2 tsp freshly ground black pepper
3 tbsp peanut oil
12 ounces sirloin steak
1 small bib lettuce, washed, leaves torn
1 small firm mango, peeled, pitted and diced
1 medium cucumber, diced
4 large green onions, diced
1/2 cup fresh cilantro leaves
2 tbsp Asian fish sauce
2 tbsp lime juice
1 tbsp soy sauce
2 tsp chopped, fresh red chili
2 tsp brown sugar
PREP TIME 5 minutes

COOK TIME8 minutes

TOTAL TIME

SERVINGS4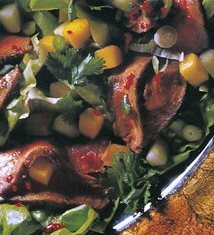 Instructions
To Prepare the Beef
Using a food processor, pulse together the garlic, corriander roots, salt, black pepper and 2 tablespoons oil.

Spread the mixture on the steak. 

Heat the remaining oil in a heavy bottomed fry pan. 

Cook the steak about 3-4 minutes on each side. 

Remove from pan and allow to cool. 
To Prepare the Salad
Slice the cooked steak into thin strips. 

Place the prepared lettuce on the serving plate and arrange the mango, cucumber, green onion and strips of steak on top. 
To Make the Dressing
In a small bowl combine the fish sauce, lime juice, soy sauce, red chilies and brown sugar. 

Stir until sugar is dissolved. 
To Serve
Drizzle the salad with the dressing and scatter cilantro leaves over the top.