Chicken with Spiced Mango Rice
PREP TIME5 minutes

COOK TIME15 minutes

TOTAL TIME

SERVINGS4
Nutritional analysis per serving: Calories 519; Protein 63 g; Carbohydrates 42 g; Fat 11 g; 18% Calories from Fat; Cholesterol 148 mg; Sodium 303 mg; Potassium 1005 mg; Fiber 5 g
Chicken with Spiced Mango Rice
Ingredients
4 boneless, skinless chicken breasts, flattened if very thick
Salt and freshly ground pepper to taste
1 package Uncle Ben
2 large, ripe but firm mangos, peeled, pitted and diced
1 green onion, thinly sliced
1/3 cup shelled roasted and salted pistachios
3 tbsp dried cranberries
pinch or dash cinnamon
pinch or dash allspice
PREP TIME 5 minutes

COOK TIME15 minutes

TOTAL TIME

SERVINGS4
Nutritional analysis per serving: Calories 519; Protein 63 g; Carbohydrates 42 g; Fat 11 g; 18% Calories from Fat; Cholesterol 148 mg; Sodium 303 mg; Potassium 1005 mg; Fiber 5 g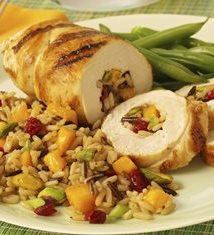 Instructions
Season chicken on both sides with salt and pepper.

Stir together rice, mango, onion, pistachios, cranberries and spices in a medium foil pan or on a very large piece of heavy duty foil.

Place about 1/3 cup of rice mixture in the center of each chicken breast.

Bring in the ends and sides to enclose, then tie with kitchen string to seal in filling.

Grill over medium-high heat for 5 minutes on each side, then place chicken on top of remaining rice mixture.

Cover with foil or seal foil package, leaving room for air to circulate.

Grill for 5 minutes more.