Spinach Salad with Mango Vinaigrette
PREP TIME15 minutes

COOK TIME

TOTAL TIME

SERVINGS4
Nutrition per serving: 286 calories (58% calories from fat), 20 g total fat, 8 mg cholesterol, 743 mg potassium, 353 mg sodium, 24 g carbohydrates, 5 g fiber, 8 g protein
Spinach Salad with Mango Vinaigrette
Ingredients
1 (10 ounce) bag baby spinach
1½ ripe mangos, peeled, pitted and cubed
1 medium tomato, cored, seeded and finely chopped
1/3 cup walnuts, toasted and chopped
1/3 cup green onions, sliced
1/3 cup crumbled blue cheese
freshly ground pepper to taste
Mango Vinaigrette
1/2 mango, peeled, pitted and pureed
3 tbsp extra virgin olive oil
3 tbsp white balsamic vinegar
1/4 tsp salt
PREP TIME 15 minutes

COOK TIME

TOTAL TIME

SERVINGS4
Nutrition per serving: 286 calories (58% calories from fat), 20 g total fat, 8 mg cholesterol, 743 mg potassium, 353 mg sodium, 24 g carbohydrates, 5 g fiber, 8 g protein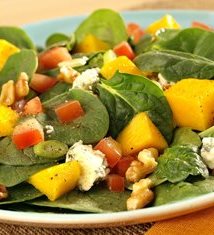 Instructions
Prepare Vinaigrette
Combine mango, extra virgin olive oil, white balsamic vinegar and salt in a blender container or small food processor; blend until smooth.
Prepare Salad
Place spinach, mango, tomato walnuts and green onions in a large bowl. 

Drizzle with Mango Vinaigrette and toss well to coat. 

Add blue cheese and toss again very lightly. Serve immediately with freshly ground pepper.