Tropical Mango Salad Shooter
PREP TIME1 minute

COOK TIME30 minutes

TOTAL TIME

SERVINGS0
Tropical Mango Salad Shooter
Ingredients
1-2 cup Caramelized Fresh Mango, minced*
1 cup Shaved Unsweetened Coconut, toasted
1/2 tsp Salt
Mango Custard (recipe follows)
1 tbsp Extra Virgin Olive Oil
1/2 tsp Salt
8 ounce Micro Greens
Mango-Corn Custard
1/2 tbsp Butter, or as needed
4 cup Corn
3-4 cup Heavy Cream
3 tbsp Turbinado Sugar
1 tbsp Salt
1/8 tsp Cayenne pepper1-1/4 cups cold milk9 egg yolks5 eggs1 cup caramelized fresh mango, minced*
1-4 cup Cold Milk
9 Egg Yolks
5 Eggs
1 cup Caramelized Fresh Mango, minced*
PREP TIME 1 minute

COOK TIME30 minutes

TOTAL TIME

SERVINGS0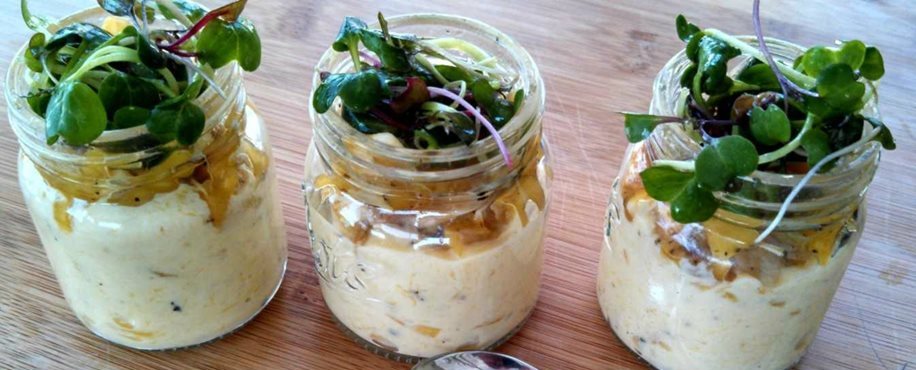 Instructions
*Caramelize peeled mango pieces/medium chunks in a large nonstick pan or nonstick electric griddle on high heat setting (preheated before adding mango) for 6 to 8 minutes, periodically stirring to get colorization. Cool before mincing in this recipe.

To make mango-coconut topping: Mix caramelized mango and toasted coconut with ½ teaspoon salt; hold chilled.

To make Mango-Corn Custard Preheat oven to 325 degrees F (165 degrees C). Butter six 8 to 10-ounce glass or ceramic ramekins. Set ramekins into a 2-inch deep baking dish. Place corn into a large saucepan and stir in cream, sugar, salt and cayenne pepper.

Bring to a simmer; remove from heat and stir in milk.

Transfer corn mixture to a blender and pulse several times to get the mixture moving. Blend on high until smooth and creamy.

Whisk egg yolks with eggs until smooth in a large bowl.

Slowly whisk about ¼ cup hot corn mixture into eggs until corn mixture is incorporated. Repeat several times until all of corn mixture is incorporated. Fold in caramelized minced mango. Divide mango-corn mixture equally into ramekins.

Pour hot tap water into the baking dish to about halfway up the sides of the ramekins.

Bake in preheated oven until custard is set, 25 to 30 minutes. Let cool about 45 minutes before un-molding. (The mixture should be soft, similar to crème brûlée)

To un-mold, run a knife around the edge to loosen. Transfer contents of all ramekins into a bowl, stir gently and fill piping bag for service.T

To assemble, pipe 1 to 2 ounces Mango-Corn Custard into 3-ounce clear/glass shot glasses. Top with 1 tablespoon caramelized mango-coconut mixture; hold chilled. Just before service. Mix lime juice, olive oil, salt and micro greens. Top each serving with 10 to 15 strands.