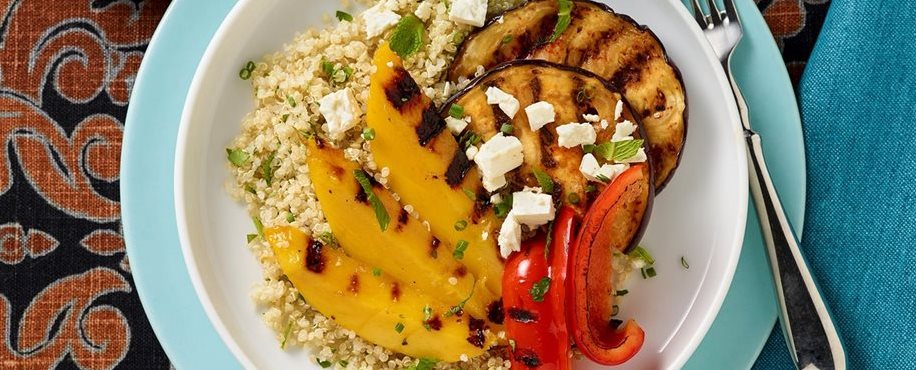 INGREDIENTS
Harissa Spiced Grilled Eggplant
5 cups cooked quinoa
10 Tablespoons crumbled Feta, for garnish
5 Tablespoons extra virgin olive oil, divided
½ teaspoon fresh lemon juice
½ teaspoon harissa powder*
1 red bell pepper, quartered, seeded
2 each ½ -lb eggplants, trimmed, cut crosswise into 1/2-inch-thick rounds for small eggplant or cut into lengthwise quarters then into 6ths or 8ths for large eggplant
Grilled Fresh Mango
1 clove garlic, minced
1 teaspoon fresh lime juice
1 Tablespoon rum
Kosher salt to taste
1 teaspoon olive oil
2 ripe mangos
Mango Sambal
1 cup chopped ripe mango
2 Tablespoons rice wine vinegar
½ teaspoon fish sauce
1 small Serrano chile, seeded and finely chopped
2 Tablespoons honey
Harissa Spiced Grilled Eggplant
*Harissa powder is a spice blend. If unavailable, combine ¼ cup ground coriander, ¼ cup garlic powder, ½ cup paprika, ¼ cup cumin, 3 Tablespoons ancho chile powder, 4 teaspoons salt and 4 teaspoons cayenne pepper.
Whisk 2 Tablespoons oil, lemon juice, and harissa in medium bowl. Season mixture with salt, to taste.
Prepare grill (high heat). Grill bell pepper quarters, skin side down, until charred and cooked through.
Reduce heat to medium on grill. Pour remaining 3 Tablespoons oil onto rimmed baking sheet. Place prepped eggplant on prepared sheet; turn to coat. Sprinkle with salt and pepper. Grill until charred in spots and cooked through, turning occasionally, about 10 minutes. Return eggplant to same sheet.
Add grilled bell peppers to sheet and toss with harissa oil.
Grilled Fresh Mango
To make marinade: Mix all the ingredients in a large bowl, except the mango; whisk well.
Peel the mangos. Cut the cheeks from the fruit and trim the remaining flesh from the pit. Add the cheeks and larger pieces to the mixing bowl to marinate for 30 minutes to an hour. Use the smaller pieces for the sambal.
Preheat a grill to medium-hot. Remove the mango cheeks from the marinade (save marinade to drizzle on salads) and place the pieces on the grill and cook 8 to 10 minutes turning the mango until cooked through and caramelized.
Mango Sambal
Combine mango and remaining ingredients and cook in a large saucepan 8 to 10 minutes to help "set" the ingredients, and then cool immediately. Serve on the side or toss with quinoa.
Divide ingredients evenly by 10 to make 10 individual composed salads or place ingredients onto a large serving platter to serve family style. Drizzle reserved mango marinade over salad. Garnish individual servings with 1 Tablespoon crumbled feta and fresh herbs.

Recipe courtesy of Chef Dave Woolley