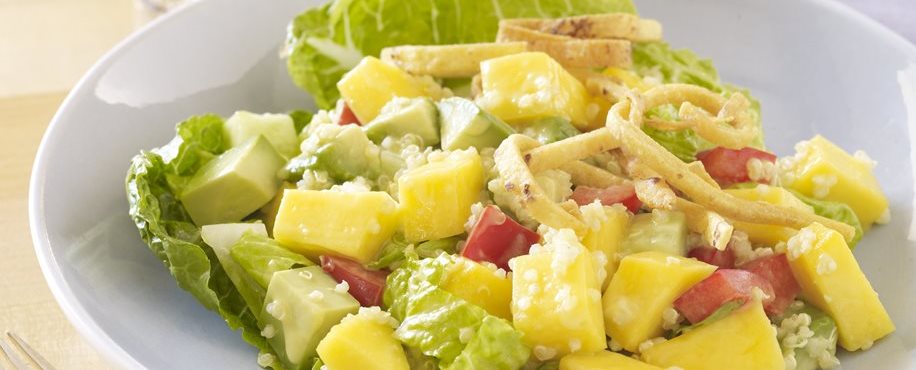 INGREDIENTS
6 heads Romaine lettuce
3 fresh ripe mangos (9 count*), peeled and diced
3 fresh ripe avocados (48 count), quartered
3 cups cooked quinoa
1 1/2 cucumbers (20 ounces), peeled and diced
1 1/2 red bell peppers (12 ounces), diced
3 cups tortilla strips
To assemble each salad, cut 1/2 of one Romaine and toss with: 2 ounces diced mango, 1/4 of one avocado, diced, 1/4 cup quinoa, 1.5 ounces cucumber and 1 ounce red bell pepper with about 2 ounces Fresh Mango Dressing. Garnish with 1/4 cup tortilla strips.
Fresh Mango Dressing:
Puree ingredients in a food processor. Slowly drizzle in canola oil to form an emulsion. Store refrigerated. Makes about 3 cups.
*A 9 count mango weighs about 18 ounces and yields approximately 11 ounces useable fruit. 1 cup 3/8" diced mango weighs 6.35 ounces.
Source: Chef Ehrline Kamaga, Valhalla Table, Costa Mesa, CA/Layer Cake Bakery, Irvine, CA