Mango and Green Papaya Salad
PREP TIME40 minutes

COOK TIME5 minutes

TOTAL TIME

SERVINGS4
Source: Chef Kian Lam Kho, Lotus Blue Dong Tian Kitchen & Bar, NY, NY
Mango and Green Papaya Salad
Ingredients
2 cups (5 ounces) green papaya, peeled and julienned
1 cup (2 ounces) enoki mushrooms, bottom cut off
1 cup (3 ounces) cucumber, julienned
2 cups (12 ounces) julienned ripe fresh mango
Yunnan Tomato Salsa
1/4 cup (1 ounce) ground peanuts
1/4 cup cilantro leaves
1/4 cup Thai basil leaves
1/4 cup mint leaves
YUNNAN TOMATO SALSA
1 1/2 cups (13 ounces) peeled, seeded, finely chopped tomatoes (4 to 5 tomatoes)
2 Tbsp (1 ounces) pickled red chili, finely chopped
1/4 cup (2 ounces) fresh lime juice
1/4 cup cilantro, roughly chopped
2 tablespoons minced ginger
2 tablespoons minced garlic
1 tablespoons sugar
1 1/2 teaspoons salt
PREP TIME 40 minutes

COOK TIME5 minutes

TOTAL TIME

SERVINGS4
Source: Chef Kian Lam Kho, Lotus Blue Dong Tian Kitchen & Bar, NY, NY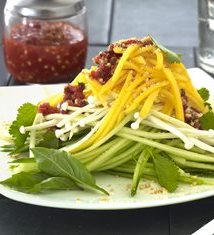 Instructions
To plate:
Layer the green papaya, enoki mushrooms, cucumber, and mango. Dress each salad with 2 tablespoons Yunnan Tomato Salsa and sprinkle with 1 tablespoons ground peanuts. Garnish each salad with 1 tablespoons each: cilantro, basil, and mint leaves. Serve immediately.
To make Yunnan Tomato Salsa:
Blanch tomatoes in boiling water for 30 seconds to 1 minute. Let cool and slip the skins off. Cut the tomatoes in half, remove the seeds, and chop into a fine pulp. Add remaining ingredients to tomato pulp and mix well. Refrigerate in not using immediately. Makes 2 cups.