Mango Boba
PREP TIME20 minutes

COOK TIME40 minutes

TOTAL TIME

SERVINGS4
Recipe submitted by Olivia Crouppen, LivHungry.
Ingredients
Boba
2 mangos, peeled and cut off pit
1 cup water
2 cup Tapioca Starch, plus extra for Dusting
Tea
2 cup Tea, brewed and cooled
2 cup Coconut Milk, or any milk of your choice
1/2 cup Mango Puree 
Mint and Lime, optional for garnish
PREP TIME 20 minutes

COOK TIME40 minutes

TOTAL TIME

SERVINGS4
Recipe submitted by Olivia Crouppen, LivHungry.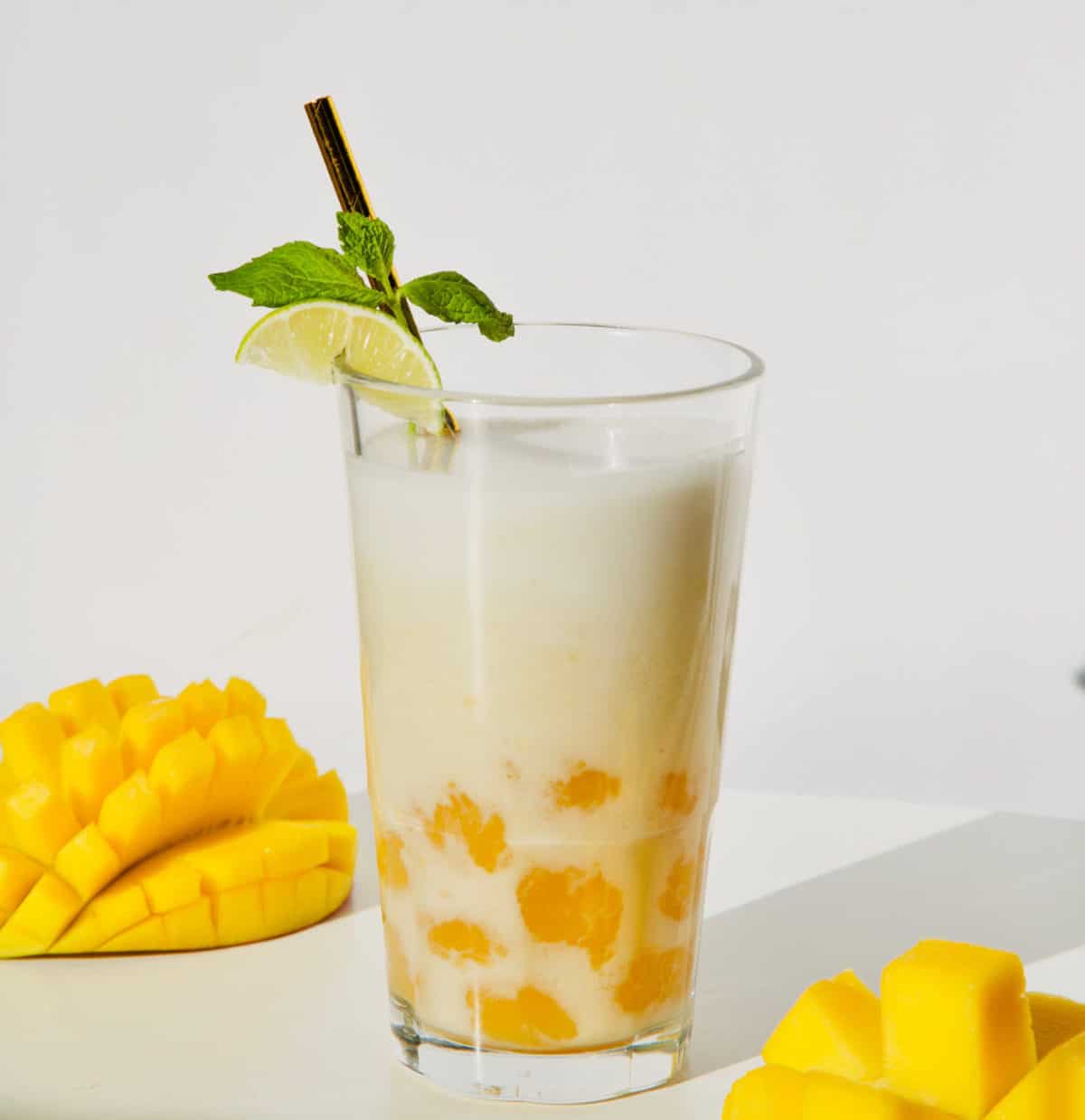 Instructions
First, in a blender or food processor, blend the mango and water into an even purée. Reserve 1/2 cup of the purée and set aside.

Transfer 1/2 the purée to a large microwave safe bowl then add 1tablespoon of the tapioca starch and whisk to combine. Heat the mango purée in the microwave for 1 minute then add the additional tapioca starch.

Return the bowl to the microwave and heat in 30 second increments until the mixture starts to look opaque, about a total of 2 minutes.

Remove the bowl from the microwave and begin working the mixture into a ball of dough. At first it may feel sticky and hard but as you work the dough the residual heat will help it take on a stretchy texture.

Once the dough comes together, lightly dust a large surface with a little bit of tapioca starch and begin to knead the dough. 

Knead for 1 to 2 minutes or until the dough feels very smooth and elastic.

To make the boba pearls, roll small pieces of the dough into even round balls. 

Once all of the dough has been rolled into pearls, cook the boba. Fill a medium saucepan with 2 cups of water and set over medium heat. Transfer the boba pearls to the saucepan and bring the water to a boil. Reduce to low and cover, allowing the boba to cook over low heat for 20minutes. After 20 minutes turn the pan off and let the boba steam for an additional 20 minutes.

To serve the boba, strain from the boiling liquid and divide among 4 large glasses.

Top off each glass with the chilled coconut milk and tea followed by the reserved mango purée.

Garnish with mint and lime if desired then stir and enjoy!

 

*Leftovers can be stored in the fridge for up to 3 days.