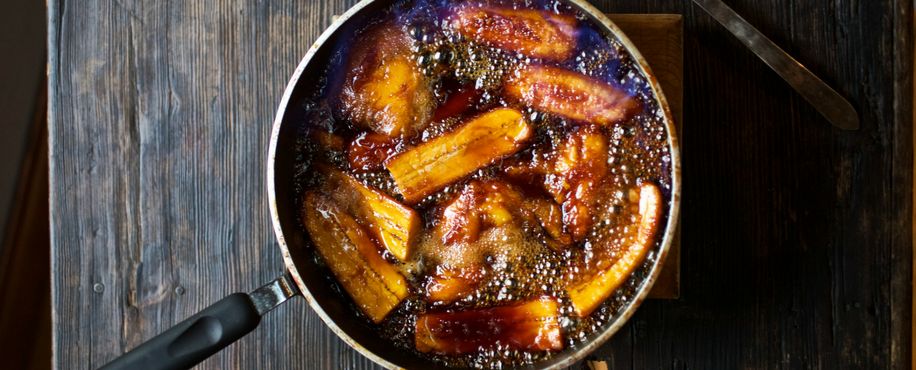 INGREDIENTS
2 each - mangos
1 each - ripe plantain
1 cup - turbinado sugar,
1 ounce - butter
1/2 cup - fresh orange juice
1/3 cup - mezcal or triple sec
1/8 teaspoon - table salt
Heat a heavy pan on high.
Prepare the fruit: use the whole fleshy cheeks of the mangos and cut the plantain in 4 long slices.
Sprinkle ½ cup sugar in the pan evenly and flat on the bottom of the hot pan. Continually add more sugar slowly or quickly (depending on the temperature of the pan) until all sugar is in the pan and begins to caramelize.
Add the butter and stir to incorporate. The caramel will become more flexible.
Stir in the orange juice.
When the sauce is thick, add the fruit. Season with a pinch of salt. Let the juices release.
Set the heat to medium.
Toss only once or twice to avoid breaking up the fruit. Let simmer for a couple of minutes.
Remove pan away from the heat.
Add the mezcal or triple sec, then put the pan back near the flame and safely flambé.
Cook until the liquid has subsided and the caramel sauce is thick again.
Remove from heat and allow to cool down to room temperature. Serve immediately.
Great when served with a scoop of vanilla ice cream.
Recipes Developed by Jorge Fitz and Beto Estua, Casa Jacaranda, Mexico City
Click here to learn more about our Share. Mango. Love experience.
Per serving: 240 calories, 3.5 g fat, 10 mg cholesterol, 49 g carbohydrate, 43 g sugar, 2 g fiber, 1 g protein, 40 mg sodium