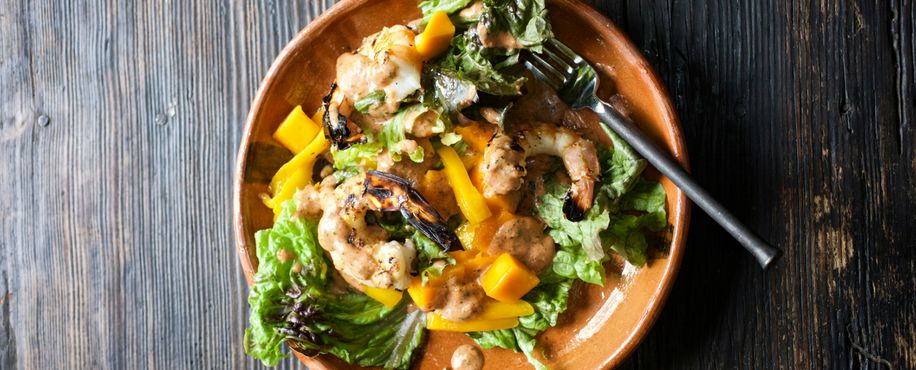 INGREDIENTS
Garlic Shrimp:
4 cloves - garlic
1-1/2 cup - water
12 (15-20 count) jumbo shrimp, raw, peeled
Spicy Mango Strawberry Dressing:
1-1/2 cups - fresh strawberries
1/2 cup - unripe mango, diced
1/2 cup - pickled jalapeños with brine
1 cup - chopped cilantro, packed
1-1/2 cup - olive oil
1/2 teaspoon - sea salt
Garlic Shrimp and Mango Salad:
1 each - Mixed lettuce,1 head each romaine, butter and red leaf, washed, drained and dried
1 -1/2 - Mangos, cut in cubes
For the Shrimp:
Peel the garlic cloves and grind well in a food processor, while slowly adding the water.
Wash the shrimp and pat dry with paper towels.
Marinate the shrimp with the garlic mixture using a basting brush, then sprinkle with sea salt. Set aside.
For the Salad Dressing:
For the dressing, use a food processor to blend the fruit, jalapeños and cilantro until smooth. While the processor is still working, incorporate the oil slowly into the processor bowl. It will emulsify to create a silky dressing that packs a spicy and fruity kick. Add sea salt to balance the flavors.
Place is a container and cover. Use immediately or refrigerate until ready to use.
For the Salad:
Tear the lettuce and toss in a bowl with the mango cubes.
Pan sear or grill the marinated shrimp on each side until done, about 3-4 minutes.
Serve shrimp immediately on a bed of lettuce and mango salad, drizzle with one tablespoon of the Spicy Mango Strawberry Dressing.
Recipes Developed by Jorge Fitz and Beto Estua, Casa Jacaranda, Mexico City
(1 salad): 200 calories, 8 g fat, 90 mg cholesterol, 20 g carbohydrate, 14g sugar, 4 g fiber, 13 g protein, 470 mg sodium