Garlic Shrimp and Mango Salad with Spicy Mango Strawberry Dressing
PREP TIME

COOK TIME

TOTAL TIME

SERVINGS6
Recipe Developed by Jorge Fitz and Beto Estua, Casa Jacaranda, Mexico City
Garlic Shrimp and Mango Salad with Spicy Mango Strawberry Dressing
Ingredients
Garlic Shrimp:
4 Cloves Garlic
1 ½ Cups Water
12 (15-20 Count) Jumbo Shrimp
Spicy Mango Strawberry Dressing:
1 ½ Cups Fresh Strawberries
½ Cup Unripe Mango
½ Cup Pickled Jalapeños with Brine
1 Cup Chopped Cilantro
1 ½ Cup Olive Oil
½ Tsp Sea Salt
Garlic Shrimp and Mango Salad:
1 Each Mixed Lettuce, 1 Head Each Romaine, Butter and Red Leaf
1 ½ Mangos
PREP TIME

COOK TIME

TOTAL TIME

SERVINGS6
Recipe Developed by Jorge Fitz and Beto Estua, Casa Jacaranda, Mexico City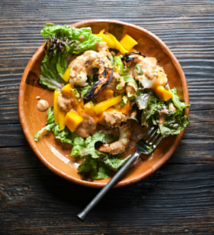 Instructions
For the Shrimp:
Peel the garlic cloves and grind well in a food processor, while slowly adding the water.

Wash the shrimp and pat dry with paper towels.

Marinate the shrimp with the garlic mixture using a basting brush, then sprinkle with sea salt. Set aside.
For the Salad Dressing:
For the dressing, use a food processor to blend the fruit, jalapeños and cilantro until smooth.

While the processor is still working, incorporate the oil slowly into the processor bowl.

It will emulsify to create a silky dressing that packs a spicy and fruity kick.

Add sea salt to balance the flavors.

Place is a container and cover. Use immediately or refrigerate until ready to use.
For the Salad:
Tear the lettuce and toss in a bowl with the mango cubes.

Pan sear or grill the marinated shrimp on each side until done, about 3-4 minutes.

Serve shrimp immediately on a bed of lettuce and mango salad, drizzle with one tablespoon of the Spicy Mango Strawberry Dressing.